Happiest player at the All-Star Game? Pat Neshek, by far
Cardinals reliever Pat Neshek lost his infant son in 2012, was designated for assignment in 2013 and signed a minor-league deal in 2014. Now he's an All-Star, and he's the happiest one of the bunch.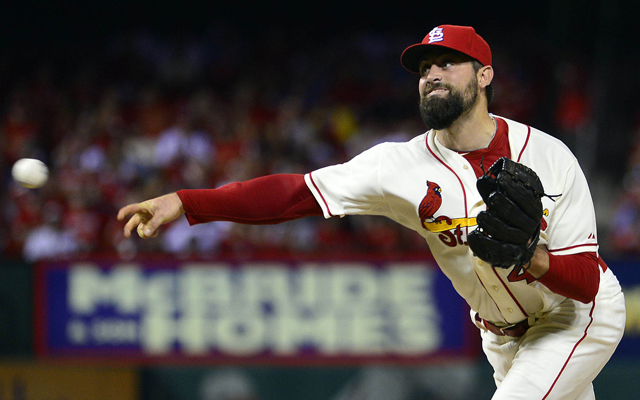 All-Star Game: Starting lineups | AL, NL rosters | Cespedes wins HR Derby
MINNEAPOLIS -- Every player is excited to be named to the All-Star team every single year. Most players sit through media day -- which, honestly, has to be rather annoying from the players' point of view -- with a smile and politely answer every question.
But I have never, ever seen a player like Cardinals reliever Pat Neshek. When he didn't have a huge smile on his face, he was tearing up. He had to pause a few times because he was getting choked up. I recorded him for about two minutes and he said "special" five times and "this means a lot" three times.
He also, bluntly, said the following: "I don't think anyone else here appreciates it as much as me."
Judging from his mannerisms and seeing every other player here in Minneapolis, I'm going to back him up and agree with him. This isn't to say the other players aren't appreciative -- again, they are -- but few could even grasp what Neshek has been through.
Let's put aside the fact that the 33-year-old reliever didn't even sign with a team until February after being designated for assignment last August by Oakland. Let's put aside the fact that he had to sign a minor-league deal and work his way up from there. And let's put aside how hard it is for non-closer relievers to make the All-Star team in the first place.
Neshek lost his infant son, Gehrig John, after just 23 hours back in 2012. Neshek's wife gave birth to a second son, Hoyt Robert, back in March. Given the circumstances, this has to have been the best few months of Neshek's life. And he openly talked about the situation.
"It's just a joy to take our Hoyt through something like this," he said. "We've been taking pictures of him everywhere along the way, not that he'll remember. We wanted to be doing it with Gehrig, so this is real special for us."
So special that Neshek said, "I almost cried," when asked about his reaction to the news of him being named an All-Star.
It's an experience the Neshek family won't forget for the rest of their lives. Good for them.
Show Comments
Hide Comments