Happy Anniversary: Neill Sheridan and his 613.8-foot homer*
Back in 1953, minor-leaguer Neill Sheridan hit one of the longest home runs ever witnessed. (*Probably, maybe)
More MLB: Power Rankings | Expert Picks | Latest news & notes | Fantasy news
On this very day -- i.e., July 8 -- back in 1953, Pacific Coast Leaguer Neill Sheridan of the Sacramento Solons authored a clout for the ages. Here's SABR's Rick Cabral:
Toward the end of the second game, Sheridan whacked a fastball, thrown right down Broadway by the Seals' Ted Shandor, over the left center-field fence at Edmonds Field. Solon ballboy Gary McDowell, sitting in the dugout, remembers it started as a frozen rope that might have been snagged if the shortstop had been a foot taller. He said when it flew over the 356-foot mark of the barricade it continued up on an incline, heading toward the Sierra Nevada Mountains. Solon third baseman, Eddie Bockman, who also watched it that night, concurred, saying, "I never saw one still going up as it left the ballpark, until that point."
At that point all that was known was that Sheridan's homer traveled a very long way, but the specifics were surely lost to the moment itself. The next day, though, a gentleman named Pat Kelly made his way to the Solons' clubhouse and informed Sheridan that his blast had shattered his car window. His vehicle, he said, had been parked in the distant reaches of the Edmonds Field lot beyond the left field wall ...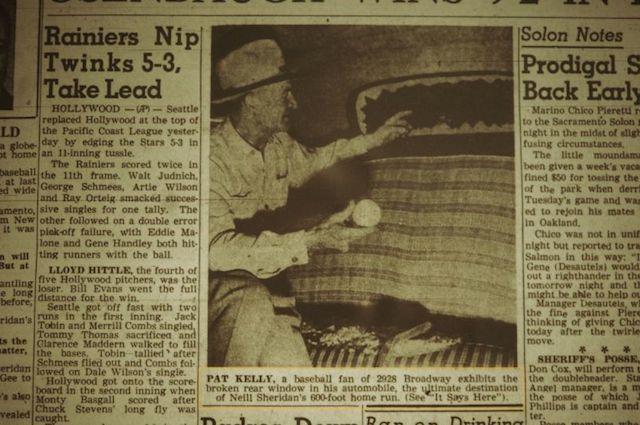 (Image: Sacramento Union via SFGate.com)
It was then that the dimensions -- both actual and figurative -- of Sheridan's blast began to take shape. Take a look at this neighborhood rendering courtesy of BaseballSacramento.com ...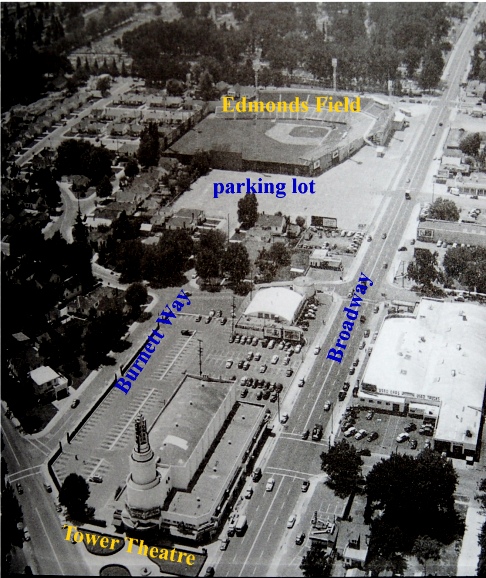 So if Mr. Kelly's tale of sundered rear window is true, then Mr. Sheridan indeed smote the ball a long, long way. 
How long? Soon thereafter professional surveyors had their say (check out their documentation here), and they concluded that Sheridan's homer -- again, assuming that Kelly's version of events is accurate -- traveled an astounding 613.8 feet, actually nicking the terminus of Burnett Way pictured above. Once more, for fitting emphasis: 613.8 gol-dang feet.  
File under "unverifiable lore" if you wish, but lore remains easier to dance to than truth. 
As for Sheridan, his big-league career consisted of exactly one at-bat for the 1948 Red Sox. Oh, and did we mention that just before the game in which he hit the home run of interest he beat an Arabian horse in a footrace (hoof-race?)? No? Well, in that case know that one Neill Sheridan, not long before he hit a 613.8-foot home run, smoked a horse in a race. 
And what shall you accomplish on this July 8?
(Wink of CBS eye: Baseball-Reference Bullpen)
Show Comments
Hide Comments