Has the decline of Albert Pujols taken hold again?
For a while, it looked like the old Albert Pujols was back in 2014. Things, however, have since changed.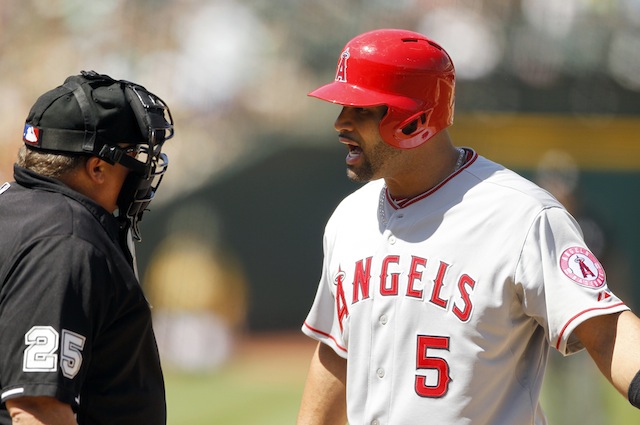 More MLB: Power Rankings | Expert Picks | Latest news & notes | Fantasy news
On Saturday, Angels first baseman Albert Pujols was scratched in advance of his team's game against the Rangers (GameTracker) because of back discomfort -- discomfort that caused him to leave Friday night's contest. So that gives us two reasons to be skeptical of what for a while looked like a 2014 renaissance for Pujols. 
Pujols has been prone to wear-and-tear injuries throughout his superlative career, but most of the time he's been able to grind through them. Now, though, he's 34, and that's not always possible. That these kinds of injuries are in character and that he's at an age that complicates swift recovery are concerns. What's perhaps a larger concern is that Pujols is once again hitting like a player very much in decline. 
It wasn't so long ago -- April 25, to be exact -- that Pujols was batting a robust and evocative-of-his-prime .293/.356/.652 with nine homers in 22 games. Some two months later, Pujols is hitting .255/.315/.479 with 16 homers in 71 games. More to the point, he's batting .240/.299/.411 since the calendar flipped to May.
When Pujols was hitting like his old self, I made the (not especially original) point that a player's decline is never linear. That is, he doesn't start getting worse and continue getting worse on an unarrested downward slope. Sometimes we see the old skills bubble to the water line, and sometimes he looks worse than he really is. But the prevailing reality of a player losing ground to age remains, well, the prevailing reality. Pujols in April isn't turning out to be the Pujols of all of 2014. It looks like he's getting back to what we thought he was coming into this season: a once-great player no longer capable of anything beyond short-term brilliance. 
So what's happened? Generally speaking, Pujols's plate discipline has eroded, and his power has regressed. Consider: In April, Pujols had K% of 8.1, a BB% of 8.1 and a home run/fly ball percentage of 23.7; since May 1, he has a K% of 13.4, a BB% of 6.7 and a HR/FB% of 12.7. The problem is that it's the latter set of numbers that are in keeping with Pujols's broader recent history.
HR/FB% is a stat especially prone to random variation in the short run, and Pujols's steady decline in this regard since 2008 means that a figure of 12.7 is probably about where he should be these days. His 23.7 mark in April? That would be a career high if sustained over a full season. Likewise, his more recent plate discipline indicators are more indicative of his current skill level. Pujols saw his walks as a percentage of plate appearances rate drop steeply after his age-30 season, and his K% has been trending methodically upward since he signed with the Angels.
Again, what we've seen since April passed is probably what Pujols is now, at least with regard to power, walks and strikeouts (important things, those). His overall numbers this season may wind up modestly better than last year's, but that will largely be because of that April blip. And, yes, "blip" appears to be the appropriate characterization, given what's become of Pujols's bat in recent weeks. 
Show Comments
Hide Comments