Have bat, will travel -- even, finally for Carlos Beltran, to a World Series
Only two active players have played in more regular season games without going to a World Series than Carlos Beltran. But for the Cardinals' outfielder and spiritual leader, that streak -- and the interminable wait -- ends with Game 1 Wednesday night. ...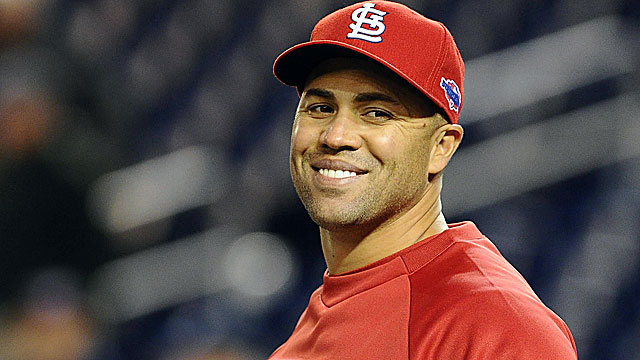 BOSTON -- Time was, Carlos Beltran carried his bat with him nearly everywhere he went.
"Now, I'm better," Beltran says. "I used to travel with my bat in my suitcase."
He still keeps it next to his bed at night. And as we now know from the beans spilled recently by his wife Jessica, occasionally he will grab that bat and take simualted swings at 4 a.m.
And now he's taking that bat somewhere it's never been. The World Series. After 16 seasons, 2,064 games and a couple of Fall Classic near-misses that left his heart sad but his spirit unbroken, Beltran is finally here.
"It feels great, honestly," he was saying here Tuesday afternoon. "I've had the opportunity to play in the postseason. Now, to be in a World Series, it really means a lot.
"It's really worth everything. I'm really happy. I'm blessed."
As he spoke from behind a folding table inside of a room in Fenway Park, his bat, the No. 3 stenciled on the bottom of the knob, was at his side. The bat from the collection that, over the years, has smashed 16 home runs in 45 postseason games. The collection that has cracked 30 extra-base postseason hits, making him just the third player in National League history to reach that plateau. Only Albert Pujols (37) and Chipper Jones (31) have more.
But despite his being a one-man wrecking crew in October with the Astros (2004), Mets (2006) and Cardinals (2012), each of his previous three October appearances ended the same: With a Game 7 loss, his bat safely back in the rack and a suitcase packed for home.
There are a lot of things to like about these Cardinals, and one of them is the way they've hoisted up Beltran, 36, and made a mission out of getting him to a World Series. Since signing a two-year, $26 million deal before the 2012 season as part of the Albert Pujols Replacement Program, Beltran has become, in a sense, the Cardinals' spiritual leader.
"He's pumped," Cardinals general manager John Mozeliak says. "He's thrilled. And it is a cool story.
"I think back to '04, he was the best player on the planet. I didn't like him."
Are you kidding? Nobody affiliated with the Cardinals could stand him then. Nothing personal. It was just his bat.
In that '04 NLCS against the Cardinals, Beltran batted .417 with a double, four homers, five RBI and four steals.
"I hated Carlos Beltran," says third baseman David Freese, and he wasn't even in the organization yet. He was a St. Louis native playing ball at South Alabama and hanging on every one of his beloved hometown team's games.
Freese has told Beltran numerous times since Beltran joined the good guys last summer of his old hatred.
"Oh, Poppy, come on," Beltran will say whenever Freese brings it up.
The Cardinals won that series and then got the best of Beltran in Game 7 of the NLCS two years later. Though he homered three more times against them that autumn, Adam Wainwright froze Beltran with one hellacious curve for a called strike three to seal St. Louis' 3-1 win in Shea Stadium.
"A couple of days after we signed him, I called him just to kind of clear the air and get it out in the open because I knew we were going to be asked questions about it," Wainwright says. "He said we'll leave it in the past. And that's right where we left it."
So they don't talk about it. Seasons change, and you move on. Though as the Cards' mission to move Beltran past the LCS intensified, both men knew one very large reason why Beltran still hadn't reached a World Series. Call it the very large Fredbird in the middle of the room.
That's why, after the Cardinals sent the Dodgers packing in Game 6 on Friday, Jessica Beltran approached Wainwright in the midst of the celebration and asked for a special photo. Wainwright and Beltran together, en route to the World Series.
"I'm getting chill bumps sharing that with you," Wainwright says. "It was such a special moment to share right there at the end of that game. He's playing 16, 17 years, he's trying to get to the World Series for the first time. He's been in three or four Game 7s, he's been so close and to not get there … it's really satisfying to get him there."
Enough Cardinals are saying mushy things like this that it's easy to scoff. Isn't this a little bit much, all of this adoration for one man? Then Wainwright starts talking about his dream the night before the Cardinals beat the Dodgers.
"I had a dream the day before that we lost, and we didn't get to the World Series, and we weren't the team to get him there," Wainwright says. "And he ended up signing with the Yankees next year. And the Yankees took him to the World Series.
"And I remember the gist of the dream was that he was sitting on a podium saying, 'I'm so happy to be a Yankee and in the World Series.' And I'm like, oh my gosh, it was a nightmare."
The only two active players to play in more regular-season games than Beltran without going to a World Series are Miguel Tejada (2,171) and Torii Hunter (2,091).
"I'm thrilled for Carlos, and how good is he in the postseason?" Cardinals owner Bill DeWitt Jr. says. "The guy's had one of the greatest postseason careers ever. I was laughing, talking to him recently, and I told him that in '04, we couldn't get you out.
"I don't care where you pitched him or who pitched, a right-hander or a lefty, we couldn't get him out. We were lucky to win that."
Now Beltran is leading the Cardinals' charge, and one of the most touching moments of the season came when they all converged back into their clubhouse Friday night but held off on popping any champagne cork until Beltran entered the room. Then, they had him say a few words, and he thanked them for their persistence in getting him to a World Series and finished by telling them, "Now, let's go do this!"
He is a thoughtful, articulate and deeply religious man. He was the Royals' second-round draft pick in 1995 and made his debut in Kansas City three years later. Now his head is bald and his knees are aged but, man, can he still carry a bat in October.
"For him, the ball gets bigger," Freese says admiringly. "It gets brighter, and it gets whiter."
Even at that, for 16 autumns, Beltran wound up watching the World Series at home. And yes, watch he did.
"I watch baseball," Beltran says. "This is what I do for a living. I watch baseball, and I watch the World Series. When we were playing the Dodgers, I watched Detroit and Boston play.
"I like to see what guys are doing, how they're pitching guys."
Ask him what World Series moments have stuck with him over the years, and he doesn't hesitate. The Cardinals and Rangers, 2011, Freese slamming a home run over the center-field fence.
"Incredible," Beltran says.
Next to him, his bat stood at attention, raring to go for Game 1.
Behind him, Freese spoke at another table of opportunities taken and opportunities still within reach.
On the way to Boston, Freese says, he thought about Beltran's journey for close to an hour.
"I've been with him for two years now," Freese says. "It's why you play. The game is about guys who grind it out for so many years, and deserve to be here in the World Series, win or lose. Guys like Carlos."
Show Comments
Hide Comments