Heisman winner Jameis Winston preseason All-America in baseball
Florida State quarterback Jameis Winston is coming off a season in which he won the Heisman Trophy and National Championship. He's now set for baseball season, as a preseason third-team All-America.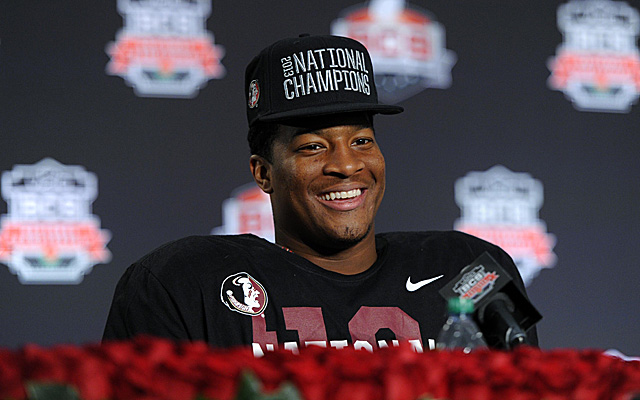 So what does a Heisman Trophy and National Championship-winning quarterback do in the spring? When we're talking about Florida State phenom Jameis Winston, that answer would be that he stars on the baseball diamond for the Seminoles.
Winston was named as a preseason third-team All-America by Baseball America in its "utility" slot, which the publication notes is reserved for players who both hit and pitch. Winston served as a part-time right fielder last season, hitting .235/.377/.345 with a pair of homers and steals. On the hill, he threw 27 innings and compiled a 3.00 ERA while striking out 21 hitters.
Here's the blurb on Winston, via Baseball America:
And college baseball's biggest name, Florida State's Heisman Trophy-winning quarterback Jameis Winston, earned the third-team nod after throwing in the mid-90s last season and doubling as Florida State's part-time right fielder. He is slated to close in 2014.
Heisman Trophy winner by Fall, All-America closer by Spring. That's a decently gifted athlete, folks.
Show Comments
Hide Comments