Hot Stove: Cespedes, Upton, Ozuna among the best left in the OF market
With Alex Gordon staying with the Royals and Denard Span heading to San Francisco, we examine the outfield market via free agency and trade.
With outfielders Alex Gordon and Denard Span coming off the free-agent board over the past 48 hours, let's take a look at how the remaining market looks for outfielders.
• Yoenis Cespedes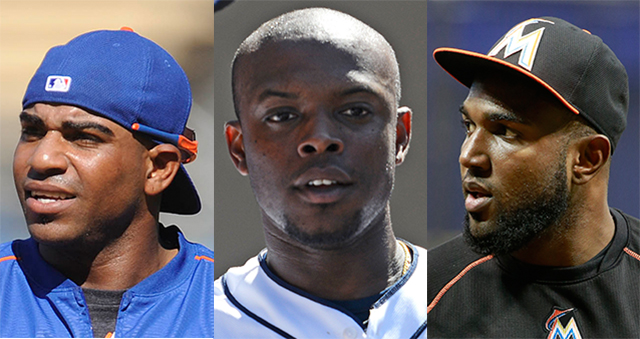 Gordon received a four-year deal from the Kansas City Royals with a club option for a fifth, and Span got three years from the San Francisco Giants coming off a season in which he played 61 games and sustained injuries requiring three surgeries. With these details in mind, it figures that Cespedes would warrant a deal lasting at least five years. The Chicago White Sox have been interested in adding an outfielder, perhaps Cespedes, but reportedly have been hesitant to give a contract longer than three years. They might have to re-think their stance. The Los Angeles Angels have said on the record it's doubtful they'd be in the market for a big-name outfielder, yet they're mentioned as a possible destination for Cespedes. Which is true?
• Justin Upton
Upton might have a better bat than Cespedes, and he's nearly two years younger, but he's weaker defensively, and that's possibly one reason why he remains on the market. The Giants seemed like a great spot because of Upton's power, but Span's arrival in San Francisco would seem to knock them out.
• Dexter Fowler
A switch-hitter, he'd come cheaper than Upton or Cespedes, and teams would be able to play him in center. He's also not nearly as robust offensively.
• Marcell Ozuna
Talented but has a rep for being hard to deal with. Ozuna would require a trade with the Miami Marlins , and the Texas Rangers reportedly are interested, with the Seattle Mariners also considering him. He's not a free agent until 2020, but his agent is Scott Boras.
• Jay Bruce
Likely the next player to go in a trade during the Great Cincinnati Purge, but not before Cespedes, Upton and Fowler find homes. His contract isn't outrageous, but $25.5 million over the next two seasons eats away at his value.
• Gerardo Parra
With Gordon and Span off the board, he figures to go somewhere soon as a cheaper option. Perhaps the Colorado Rockies are a spot for him.
• Austin Jackson
Kind of a right-handed version of Parra. Perhaps the best defensive option available.
•Also available in free agency: Will Venable , Marlon Byrd , David Murphy , Shane Victorino .
•In trade: Nick Swisher and Michael Bourn ( Atlanta Braves ), Carl Crawford and Andre Ethier ( Los Angeles Dodgers ), Carlos Gonzalez ( Colorado Rockies ).
Show Comments
Hide Comments
Our Latest Stories
Rain cut things short in Pittsburgh on Thursday night, so nobody won

Here's a look at the postseason race standings with four days left in the regular season

A certain Yankee legend was on hand to honor Big Papi before his final appearance at Yankee...
The outfield grass will be looking good for David Ortiz's final regular season appearance in...

The Tigers and Indians were rained out on Thursday. Here's what that means for the AL wild...

It was paid for by a local radio station, as the listening won a contest