Hot Stove: Giants agree with Denard Span for 3 years, $31 million
Giants have laid out $251 million this offseason for free agents, including Span, along with pitchers Johnny Cueto and Jeff Samardzija. Span batted .301 with a .796 OPS with 11 stolen bases in 61 games for the Washington Nationals in 2015.
The San Francisco Giants announced Thursday afternoon they had agreed to a three-year contract with free-agent outfielder Denard Span. The deal, which is pending a physical, is worth $31 million -- working out to $10.33 million per season, Giants general manager Bobby Evans says.
Span batted .301 with a .796 OPS with 11 stolen bases in 61 games for the Washington Nationals in 2015 amid injuries. He had three surgeries in a 10-month span, including one this offseason on his left hip. With the free-agency process taking longer than desired, Span recently published a video of him jumping over hurdles in order to "prove" his health.
To that end, the Giants will give him a chance to earn several incentives over the life of the contract:
Denard Span can also earn $1 million in 2016 in incentives, and $2 million a year In 2017 and 2018, maxing out at 525 plate appearances.

— Bob Nightengale (@BNightengale) January 8, 2016
Span, who will turn 32 this February, figures to hit leadoff, and be flanked on defense by Hunter Pence in right field and Angel Pagan in left. Span also is part of a big free-agent splash the Giants are making this offseason. They also signed right-hander Johnny Cueto to $130 million deal, and Jeff Samardzija to a $90 million deal. The club also re-signed shortstop Brandon Crawford to a $75 million extension, bringing their total commitments to $326 million since the end of the 2015 season.
Span had been pursed by the Nationals and other teams, with the outfielder market developing slowly this offseason. With Alex Gordon and the Royals agreeing on a deal Wednesday, it means Yoenis Cespedes, Justin Upton and Dexter Fowler remain the top outfielders still free.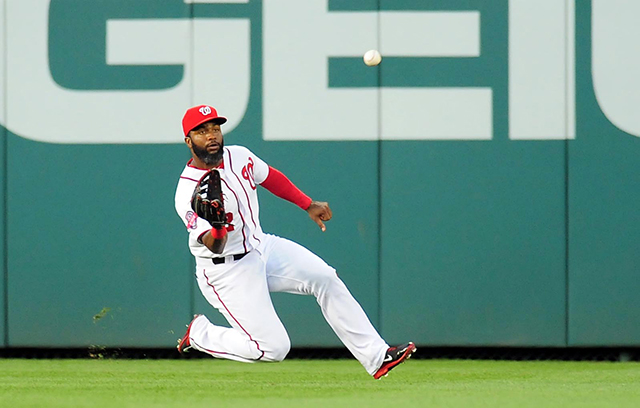 Show Comments
Hide Comments
Our Latest Stories
The 2015 NL MVP wasn't nearly as good in 2016, but the team around him was much better

Eduardo Nunez is not content to watch a ball fall harmlessly behind the plate for a strike

It's the Nats' third division title in the last five years
Runs are hard to come by for the Yanks right now

Jose Fernandez won't be starting on Sunday against the Braves as planned

Detroit suffers a crushing loss on a Royals rally to fall into a tie for the second wild c...