How about a holographic Harry Caray for Wrigley Field?
The Cubs should scrap their guest singer for the Seventh-Inning Stretch and create a holographic Harry Caray from the same people who made the holographic Tupac Shakur for Coachella.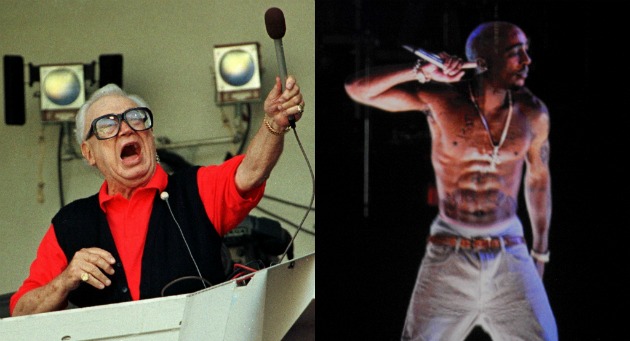 If you have the slightest interest in pop culture, you saw the
holographic Tupac perform at Coachella
. Being baseball-minded, I had just one thought: holographic Harry Caray.
Since Caray's death (which was actually about a year-and-a-half
after
Tupac died), the
Cubs
have had guest singers -- and when they can't find some B-list celebrity in town, they go with someone already in the booth, like Pat Hughes or Bob Brenly or the cleaning lady. It was cute for a while, especially early on when they got big names to do the singing, but now it's just old and sometimes sad. Now that Ron Santo is no longer with us, there's no natural replacement. Instead of just a sing-along with the organ or a recording, let's go with holographic Harry. Tupac cost somewhere between $100,000 and $400,000, and that's just pocket change compared to what the Cubs are paying
Alfonso Soriano
-- and less of a defensive liability to boot.
I know there are plenty of people who will say this would be a travesty and against everything Wrigley Field stands for, that it would be a joke and a travesty. And to those people, I say this:
For more baseball news, rumors and analysis, follow @EyeOnBaseball on Twitter, subscribe to the RSS feed and "like" us on Facebook.
Show Comments
Hide Comments