How many more home runs will Albert Pujols hit?
Albert Pujols is fresh off career home run No. 500. Are other milestones within his grasp?
More: Dunn next to 500? | Pujols' ranks among 500 Club | Growth of 500 Club
On Tuesday night, Angels slugger Albert Pujols of course tallied career home runs number 499 and 500. Now that we're beyond the initial glow of the moment, we're left wondering: how many more homers does the future Hall of Famer have in him? More broadly, what other milestones are within reach over the final years of his career?
What's immediately in Pujols's favor is that, at 34 years and 96 days old, he was the third-youngest ever to reach 500 career home runs (just Alex Rodriguez and Jimmie Foxx got there at a younger age). There's also the hot start to 2014. It's obviously still very early in the season, but if Pujols is able to sustain his early "vintage" performance, at least in terms of power, then it'll arrest a recent pattern of decline. A player's decline phase is never tidy and linear, but many of us were wondering whether Albert Pujols would ever be Albert Pujols again. Thus far in 2014, he's been just that. 
In order to look forward, we'll use a quick-and-dirty Bill James tool called the "Favorite Toy." The FT is a rather simple projection gadget that takes into account a player's career totals, recent seasonal totals and his age in order to arrive at some educated guesses as to how many homers or wins or strikeouts or stolen bases or saves or whatever he has left in him. In Pujols's case, we're obviously interested in the home runs. 
In order to give the FT the necessary inputs, we'll need to take a stab at how many home runs Pujols will hit in this, his age-34 season. Right now, Pujols is on pace for 65 home runs in 2014. Obviously, that's not going to happen, as his early pace will surely not be maintained. Instead, let's turn to the ZiPS "rest of season" projections available at FanGraphs, which take into account that hot start but also leaven it with broader performance trends. Click through, and you find that ZiPS expects Pujols to hit 24 more home runs this year, which would bring his 2014 total to 32.
Using those inputs, the Favorite Toy tell us that Pujols is expected to play four more seasons (i.e., through 2018) and total 630 homers. Baked into that projection is a 90 percent chance that Pujols becomes just the ninth player ever to hit 600 or more home runs. At the same time, the FT gives Pujols an 11 percent chance of getting to 700 and no chance of reaching 763, which would be the number needed to break Barry Bonds's all-time record.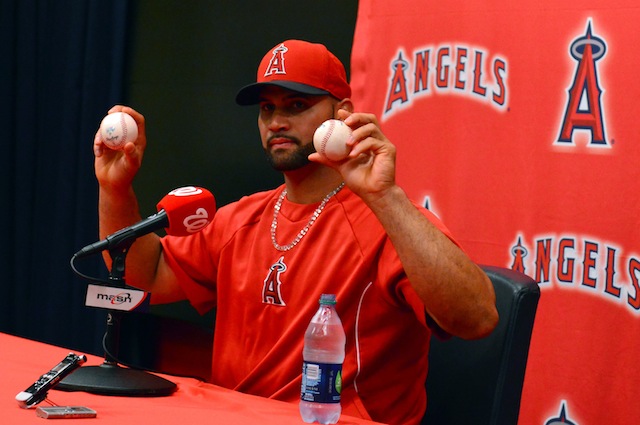 By now you've probably seized up one of the problems with the forecasts laid out above: Pujols, although signed through the 2021 season, is projected by the FT to end his career after 2018. If that came to pass, then Pujols would be leaving $87 million on the table, and that, suffice it to say, isn't likely.
So let's tweak the above numbers until we get a forecast through 2021, after which his 10-year, $240-million contract with the Angels will expire (and his 10-year, $10-million "personal services" contract will begin!). The first run through the Favorite Toy gave Pujols an average of 26.7 homers per season over the remainder of his career. So let's use that figure -- 27 -- to build outward and try to get the system to peg his likely retirement date of post-2021.
After said tinkering, the closest we can get without dipping into the 2022 season is mid-way through 2021. Under those parameters, the Favorite Toy projects Pujols for 699 career homers and gives him a 49 percent chance of reaching 700. However, the system still gives him no measurable chance of becoming the all-time home run king (i.e., reaching 763 career homers). Assume he plays all of 2021, and Pujols becomes just the fourth player in history to hit 700 or more.
As for other systems, Baseball Prospectus's PECOTA coming into this season tabbed Pujols for 676 career homers through 2021. If he exceeds power projections for this season (he's obviously off to a good start on that front), then you can bump that total up a bit. Meantime, the Oliver system available at FanGraphs coming into this season projected Pujols to total 586 through 2018. Using its suggested rates of decline, Pujols would be at around 625 after his contract is up. Again, though, ramp it up if the early 2014 returns hold form.
To bottom line it, Pujols, barring major injury or decline beyond the expected, is almost certain to get to 600. If 2014 does indeed turn out to be a post-prime "spike" year in terms of power, then I'd give him something shy of a coin-flip to reach 700 -- 40 percent or so. He's not going to catch Bonds, though.
His Cardinals peak in tandem with what are going to be some highly impressive counting stats (Pujols will likely get to 2,500 hits before the end of this season, and he's already at 529 doubles; 1,517 RBI and 1,440 runs scored) will make him an easy first-ballot Hall of Famer when his time comes. In the interim, though, expect between 150 and 200 more home runs from Pujols, who, as you may have heard, is at 500 ... and counting.