Hughes market may not be what the Yankees hoped
The demand for available Yankees righthander Phil Hughes might be affected by the sliding fates of several West Coast teams.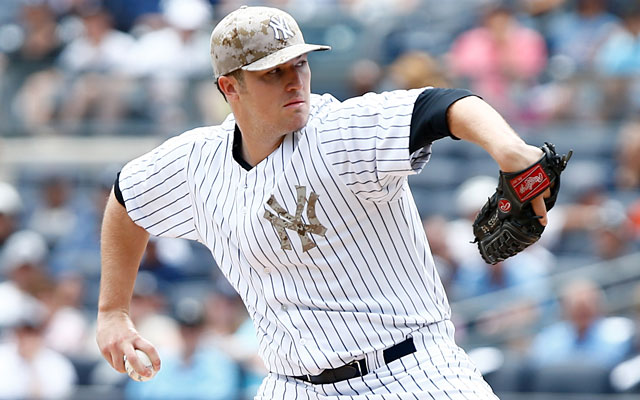 Trading free-agent-to-be Phil Hughes for a hitter makes a lot sense for the Yankees. He's a talented pitcher in a seller's market for pitching, and the Yankees are much deeper in pitchers than hitters.
But so far, the Yankees don't seem to be finding the right kind of return, according to sources. Hughes is much better than his stats, but thus far, the interest isn't thought to be there.
While his current stats aren't exactly excellent, the reason might have little to do with Hughes.
Although some rival executives suggest Hughes could prove much more effective in a more pitching-friendly environment (aka anywhere but Yankee Stadium) -- one saying "he'd be much better if he got out of Yankee Stadium." -- other changes in some quarters of the NL West hasn't made the Yankees' task any easier.
The Dodgers are no longer aggressively seeking a mid-rotation starting pitcher after landing right-hander Ricky Nolasco while the slumping Giants and Padres probably can't be viewed as active buyers, at least for now, in light of their recent slides. The Padres, in fact, look like sellers now.
All three of those teams could have fit Hughes better not only because they are in the National League but also because they play in ballparks bigger than Yankee Stadium. The Orange County, Calif., product also has drawn interest from his home-area Angels in the past (their baseball people were planning to draft him before owner Arte Moreno overruled them and insisted they take Jered Weaver). To the surprise of many, the Angels also don't look like a contender.
The Yankees started trying several days ago to get a gauge on Hughes' market. Ivan Nova has gotten hot, and Michael Pineda is waiting in the wings at a time when the Yankees have struggled to score.
Hughes is better than his numbers, but that might not be enough. Hughes is 4-9 with a 4.57 ERA overall, but he has been very effective on the road and frustratingly vulnerable in his own home park, going 1-7 with a 5.63 ERA in Yankee Stadium. Plus, 12 of the 18 home runs that he has allowed in 102 1/3 innings have been hit at the cozy confines of Yankee Stadium.
Show Comments
Hide Comments