If Jeff Samardzija hits trade market, which team needs him most?
Jeff Samardzija pitched another gem on Saturday night. Which team should the most active in trying to pry him away from the Cubs?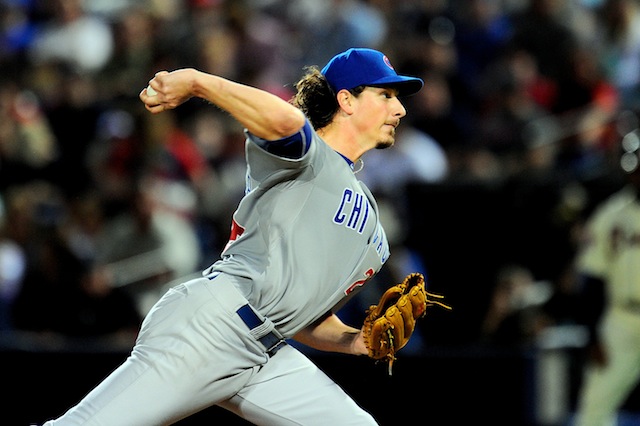 More MLB: Power Rankings | Expert Picks | Latest news & notes | Fantasy news
On Saturday night, Cubs right-hander Jeff Samardzija authored another dominating start. Against the Braves, he struck out seven and walked one over six shutout innings and spotted 48 of his 69 pitches for strikes. If not for a lengthy rain delay, he'd have no doubt gone deeper into the game. Still, the 29-year-old lowered his 2014 ERA to 1.45 after eight starts. 
Back in early March, I opined that Samardzija was poised for a big year in 2014. However, I did so in the service of urging the Cubs to sign him to a long-term extension. The more time ticks by and the more the relationship between Samardzija and the front office seems to get a little icier ... well, let's just say a trade involving Samardzija well in advance of the July 31 non-waiver deadline would hardly surprise. After all, he topped Jon Heyman's list of spring trade candidates. An extension in Chicago remains possible, of course, but let's turn our attention to the tantalizing possibility of a swap. 
The question now becomes: Which team is the best fit for Samardzija? Like all such major trade possibilities, this one entails a number of consideration. Among them ... 
- The team should be a certifiable contender in 2014 (e.g., not the Phillies, among others);
- The team should need or anticipate needing help in the rotation (e.g., not the Tigers or Nationals);
- The team should have the payroll flexibility (i.e., payroll willingness, since clubs are wallowing in cash right now) to take on a pitcher who's owed the balance of a $5.35-million salary for 2014 and will be in for a hefty third-year-arbitration raise in 2015 (he's eligible for free agency after the 2015 season) ... e.g., not the Rays;
- They should not play in the NL Central (or be the crosstown White Sox, probably), since those teams would be unlikely trading partners for the Cubs. 
With those prevailing criteria in mind, let's take a look at some potential fits ... 
Braves
There's been nothing wrong with the Atlanta rotation thus far, but some regression is almost certainly in the offing. Landing an arm like Samardzija would be a pretty nifty preemptive strike against said regression. As for ownership's willingness to make the investment, it's worth noting that Liberty Media is no longer as miserly as they once were. 
Orioles
The O's have rotation depth, but they lack a true front-end type at the moment (the very occasional Ubaldo Jimenez gem notwithstanding). Along those lines, they rank 28th in the majors in quality start percentage thus far in 2014. Sure, it's possible that youngsters Kevin Gausman and, eventually, Dylan Bundy can help out this season, but there's no guarantee they'd be able to overcome the young starter's learning curve in time to upgrade a contender.
Mariners
The front end is more than stabilized with Felix Hernandez and Hisashi Iwakuma, and things will presumably get better once Taijuan Walker and James Paxton return. Still, the Mariners are "pot-committed" for 2014, and adding Samardzija could nudge them closer in what's perhaps the toughest division in baseball.  
Rangers
Presently, the Rangers rank 13th in the AL in rotation ERA and 13th in strikeouts as a percentage of batters faced. Things should improve as Matt Harrison gets more starts behind him and once, later in the season, they get Derek Holland back. Still, the Rangers are squarely in "win now" mode, and a one-through-three of two Yu Darvish, Samardzija and Holland would be the envy of almost every team in baseball. The Rangers' window is closing, so half-measures are out.  
Blue Jays
I have some doubts as to whether the Jays will contend for all of 2014, but there's no doubt that there's enough compression in the AL East to allow them to stick around. Accepting that premise, perhaps no contending rotation is in need of more help than the old and injury-riddled Jays unit. The surest sign that Toronto needs frontline guy is that they rank ahead of only the Diamondbacks when it comes to innings per start. That bullpen is getting worn out early.  
Angels
GM Jerry DiPoto did a nice job improving the rotation over the winter, but a play for more frontline depth is recommended. Jered Weaver, while still quite useful, is seeing his trademark command slip at age 31, and it's likely he's no longer a genuine ace. Samardzija, provided he sustains the growth he's shown thus far, gives them that ace. The question for the Halos is whether their barren farm system has enough to swing a deal for a player like Samardzija. 
Yankees
The Yanks are obviously devoting their substantial resources to contention in 2014, so affording Samardzija from a financial standpoint is all but afterthought for the colossus in the Bronx. The loss of Ivan Nova for the season and the injury history of Michael Pineda mean that reinforcements are in order. Besides, they can't sign Max Scherzer until after the World Series, anyway.  
Developing!