If Verlander of old really is back, Tigers will be hard to beat
Justin Verlander hasn't been bad this year, but he hasn't been the best pitcher in the game. Last time out, he looked like that guy again.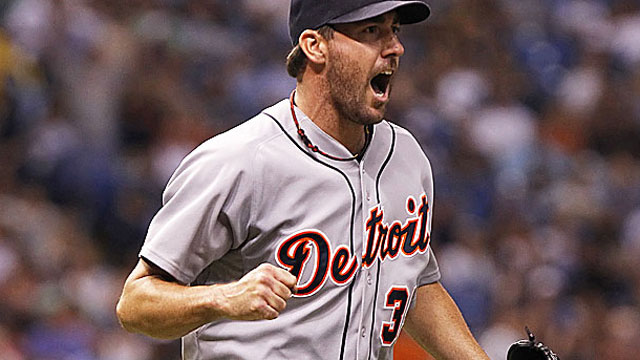 NEW YORK -- The Tigers already looked like a dangerous team for October.
Their best hitters can hit the best pitchers. They have power arms, and we've seen how that plays in the postseason. They found an answer for the Jhonny Peralta question, and they seem to have figured out their bullpen, too.
But what if what they saw from Justin Verlander the other night in Cleveland is a sign of what's to come? What if Verlander is indeed ready to reclaim his spot as the game's best pitcher?
As Torii Hunter watched from right field on Tuesday night, that's exactly what he was thinking.
"He pitched like he was the best pitcher in the game," Hunter said. "99 and 100 in the eighth inning. That's the Verlander I know."
There's been plenty of talk about Verlander this summer in Detroit. His velocity has been down a tick, according to fangraphs.com. His ERA doesn't rank among the top 10 in the American League, and neither does his strikeout total.
Max Scherzer has been the Tigers' best pitcher, not Verlander.
But the way Verlander looked in Cleveland, when he allowed one run on four hits in eight innings, with no walks and seven strikeouts, you wonder if that's about to flip back.
"That was the Verlander of old," said one scout in attendance. "I had to see him four times this year to see it, but that was it."
Verlander has hardly been bad this season. His ERA has never risen over 3.90. He has finished the seventh inning 14 times in 24 starts. He was an All-Star, and he's still well above average.
He wasn't satisfied. Not even close.
"I've been sitting with an ERA in the 3's," he said. "Some people might be OK with that. I'm not."
Verlander said he has worked more between starts this year than he ever has in his career. He always believed that there was a mechanical adjustment to make, and he just had to find it.
"I knew that something was off," he said. "I hope I found it."
He's not going to declare after one good start that he's back. He wants to see it again when he starts Sunday against the Yankees, and then through September and into October.
If he does, watch out.
"That was definitely a lot closer to that magical season [of 2011]," Tigers catcher Alex Avila said. "You can't expect more than that. I know he always expects to give up no hits and no runs, but I know he was happy that night.
"He was throwing 98 on the black."
He was still doing it in the eighth inning, 100 pitches deep into the game.
On that night, he did look like the best pitcher in the game. And the Tigers looked hard to beat.
Show Comments
Hide Comments