Ike Davis needs Triple-A more than the Mets need Ike Davis
For the second straight year, Ike Davis is off to an awful start. For the second straight year, the Mets seem unwilling to send him to Triple-A.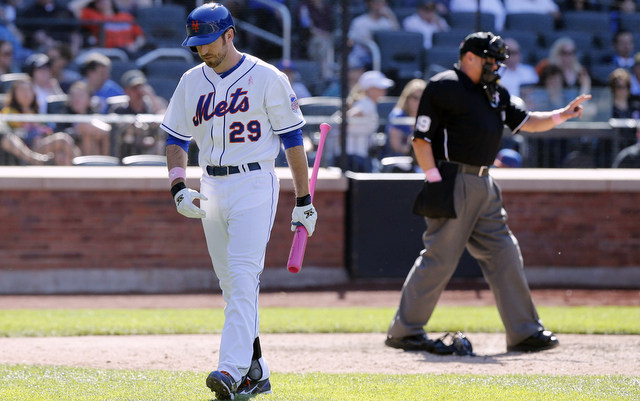 More MLB: Scoreboard | Standings | Probable Pitchers | Sortable Stats | Odds
On Wednesday afternoon, Mets first baseman Ike Davis went 0 for 2 with two walks and a strikeout in the team's loss to the Reds. It made his season batting line .147/.236/.245 in 161 plate appearances. That is not a whole lot better than the .130/.161/.174 batting line being put up by NL pitchers this year.
Furthermore, the struggles at the plate appear to be carrying over onto the field. Davis failed to scoop an easy one-hop throw on Friday (error went to the shortstop), booted a routine ground ball on Saturday for an error, and then on Wednesday he allowed a ground ball to go by thinking it was foul only to watch it stay fair. Here's the play if you haven't seen it:
Davis just assumed it would go foul. Instead, the ball went for an RBI double to give the Reds a 5-4 lead in the ninth. One run would have scored on the play anyway, but the inning got out of control and Cincinnati blew it open.
This isn't the first time the 26-year-old Davis has gotten off to a horribly slow start. Last season he carried a .158/.234/.273 line into early June before hitting .265/.347/.565 with 27 home runs in his final 100 games. There was talk of demoting him to Triple-A at this time last year, and there's again talk of sending him to Triple-A to work out whatever problems he's having.
The Mets, so far, have been hesitant to demote Davis. Mike Puma of the New York Post heard the team will take the weekend to get a "better understanding" of the situation. Unless Davis goes on a tear -- I don't mean two 1-for-4s and a 2-for-3 either -- against the Braves this weekend, I don't see what would be materially different come Monday.
Meanwhile, here's a quick list of what could be improved by sending Davis to Triple-A for a few weeks:
Offense: Davis hasn't hit a lick, obviously. The Mets may not be contenders, but they still want to field a respectable team.
Defense: Davis in Triple-A means Lucas Duda shifts from left field to first base, his best position (other than DH). Duda at first and either Mike Baxter or Juan Lagares in left is way better defensively than Davis at first and Duda in left. 
Confidence: The Mets' Triple-A affiliate is in Las Vegas, one of the most hitter-friendly environments in baseball. If it can't help get Davis on track and thinking clearly, nothing will.
The Mets seem content to ride out Davis' slump, which isn't terribly surprising. They did the same last year and were rewarded with a big second half. These slow starts are not OK, though. The Mets can't just ride out an early season slump for a few weeks year after year. Davis was supposed to have emerged as the left-handed complement to David Wright by now, but instead the team has no answers for his struggles and can't decide what to do with him.
(h/t SB Nation for the GIF)
Show Comments
Hide Comments