IMPORTANT OFFSEASON GIF: This is a chicken playing baseball
Because this is the offseason, you're about to see a chicken playing baseball.
IMPORTANT OFFSEASON GIFS: Pablo Sandoval applying deodorant | Hyun-Jin Ryu slurping a noodle in reverse
In the 1950s and 1960s, leisured psychologists, in an effort to realize the dreams upon which this republic was founded, taught chickens to play baseball. This undertaking not only kept at-risk chickens off the streets but also yielded the following action-news GIF: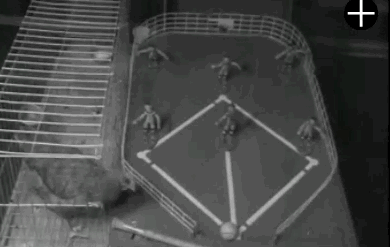 Smart, veteran hitter, that one. After fouling (preemptive: "fowling") off the first offering, the feathered batsman goes with the outside pitch, laces it to right-center and then rewards himself with some smokeless tobacco.
***
It is the winter, and there is no baseball here. So it falls to chicken-baseball to sustain us. For we are but starving pullets. 
Show Comments
Hide Comments