In losing effort, Brewers shine brightest for National League
Though the NL lost, the Brewers shined brightest for the League, with Aramis Ramirez and Jonathan Lucroy collecting more than half the league's hits and combining for three doubles.
All-Star Game: Recap | Box Score | Live blog
MINNEAPOLIS -- The National League lost out on the All-Star Game, 5-3, that will surely be forever known as the Derek Jeter sendoff -- though plenty of other players, such as game MVP Mike Trout and power-hitting machine Miguel Cabrera, had big moments. So much of the fuss will rightfully be centered around the American League in the aftermath.
But don't sleep on those Milwaukee Brewers. Though they had a real rough stretch heading into the All-Star break, they're still a first-place ballclub and sit only a half game back of the Dodgers for the best record in the National League. And they shined brightly Tuesday night in Minnesota's Target Field.
Of the National League's seven hits, four belonged to the Brewers. The NL racked up five doubles, with three of them coming from Brewers.
Aramis Ramirez went 2 for 3 with a double and a sparkling defensive play early at third base, hopefully quieting some of the complaints that Milwaukee fans stuffed the ballot box in his favor.
Jonathan Lucroy may well have been the MVP if the NL had won. In two plate appearances, he clubbed two doubles and drove home two of the NL's three total runs.
Though Carlos Gomez came up empty at the plate, he flashed his amazing defensive range in left field, running down what looked like a Trout double (or another triple?) on Trout's second at-bat of the game, nearly to the left-field foul line. He was plenty happy for his teammates anyway.
"I'm very happy for 'Luc' and Aramis," Gomez said after the game. "They both had a big game and did such a great job for us. I wish we would have won, but they still did a great job for the team."
In fact, we could argue this was the best All-Star Game in franchise history. Yes, Prince Fielder won the MVP in 2011, but that was on one hit (a three-run, go-ahead homer). The only Brewers player who had previously collected at least two hits in an All-Star Game was Ryan Braun. This time around, both Ramirez and Lucroy did it in the same game.
On the mound, Francisco Rodriguez worked a scoreless inning.
Add it up, and it could have been a banner night for Milwaukee, if only the NL had won.
Still, it was a good showing overall and the club deserves some credit for it.
And now, the task shifts back to the NL Central, where there are four teams within 3½ games, but the Brewers sit at the top.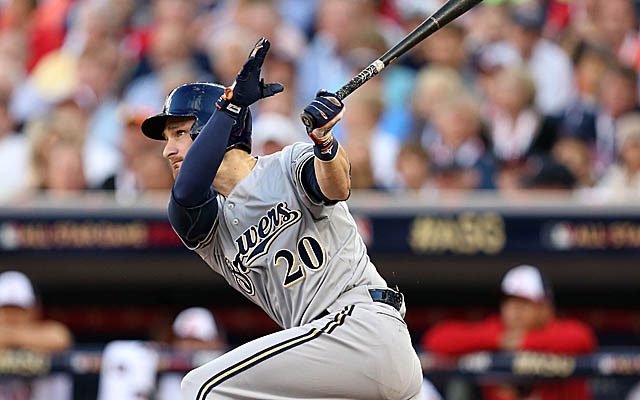 Show Comments
Hide Comments
Our Latest Stories
The Cavs get their NBA championship rings right next to Game 1 of the World Series

Schwarber has not played a major league game since April 7

It's time our fourth annual series from the World Series
Will Strat-O-Matic get this one right?

The 2016 World Series should go off without any weather issues

Maddon has never won a World Series as a manager