In season of bad luck, presenting unluckiest team of all, the San Diego Padres
Thirteen Padres are currently on the disabled list, and as incredible as it seems, not one Padre who has gone on the disabled list this year has actually stayed off the disabled list.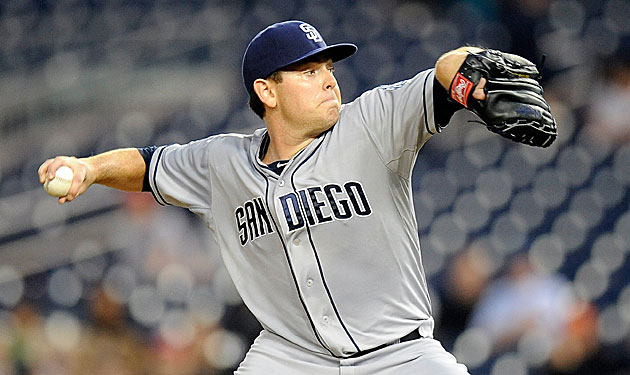 Right-hander Tim Stauffer is a two-time DL participant for the Padres this season. (Getty Images)
NEW YORK -- Funny, though not in an amusing sort of way. Both Padres manager Bud Black and general manager Josh Byrnes used the exact same word to describe the Padres' injury situation. "Incredible."
Incredible it is.
More on Padres
Related content
Though not in any positive sort of way.
Thirteen Padres are currently on the disabled list, and as incredible as it seems, not one single Padre who's gone on the disabled list this year has actually stayed off it. This is some unlucky 13. Two have come off the DL only to return later -- outfielder Mark Kotsay and pitcher Tim Stauffer. It's no exaggeration to say the busiest men in baseball are on the Padres training staff.
Black's pregame press gathering Sunday almost excusively regarded medical updates. He's a good one for this role because he seems to be in a perpetually even mood, though at this point we have to assume it's a prime acting job. His interviews are peppered with phrases like "We're hoping for the best," and "We're hoping he feels OK."
Too often, those hopes haven't been realized.
Some of their better young pitchers are out. Stauffer recently went for a second opinion on his elbow. Cory Luebke, who signed a $12 million, four-year deal on the cusp of the season, had Tommy John elbow surgery May 20. Their veteran closer, Huston Street, is also out.
There was a bit of good news Sunday. Black reported that outfielder
Cameron Maybin
appears likely to avoid making it 14 Padres on the disabled list with his wrist injury. "I don't think this is a DL," said Black, who ought to know.
Even better, Black said outfielder Carlos Quentin, who had knee surgery, may make his first appearance as a Padre on Monday in Chicago. (Remember, if he comes off the disabled list to stay, he will become the first Padre to accomplish that feat.) The loss of the San Diego product Quentin, in his first season with the hometown team, has been especially hard to take because, as Black said, "When you have a guy you project to be in the middle of your order ... he was a big piece, a big piece."
Obviously, 13 players on the disabled list are a lot, but it's put into better context when one realizes that the Rangers, a much better team and a better-paid one as well, didn't have a single player on the disabled list until Neftali Feliz recently suffered an elbow injury. The Padres are not a team that can afford to suffer such a long string of injuries.
With all the players on the disabled list, lately they have been fielding a team with a $27 million payroll, which is absurdly puny even by the Padres' standards. They aren't going to compete that way, which goes a long way toward explaining their 17-31 record.
To catalogue their disabled list, there are six pitchers (all right-handed), four outfielders and three infielders on it. By body part, there are three shoulders, three elbows, two knees and one foot, calf, forearm, adductor and lat apiece.
Quentin and infielder Logan Forsythe have missed the most games at 48 (that it to say all of them), while Stauffer has missed 47. Outfielder James Darnell has missed the fewest at nine. 
Just incredible.