Injured Derek Jeter: 'This whole season has been a nightmare'
Just a week after returning from the disabled list, Yankees Captain Derek Jeter may be headed back to the DL again with a right calf strain. A painful Yankees' season continues.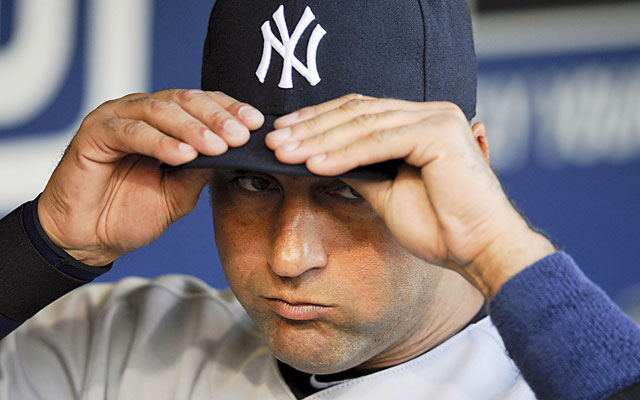 SAN DIEGO -- This might be the most cruel twist of all for the Yankees as they head toward Chicago following Sunday's spanking by the Padres:
Alex Rodriguez suddenly appears to have a better chance than Derek Jeter to be in Monday night's lineup against the White Sox.
Jeter has a Grade 1 strain in his right calf, sat out the final two games of the Padres series and there appears to be a strong chance that he could land back on the disabled list as soon as Monday.
The Yankees shortstop was uncharacteristically frustrated as the Yankees packed for Chicago following another loss, this one 6-3 as Phil Hughes continued to implode.
"It's been terrible, said Jeter," who played in only four games since coming off the DL last Sunday. "It's been like a nightmare.
"This whole season has been a nightmare."
This is how bad it is for Jeter, 39: He isn't even sure how he hurt his calf. The injury apparently happened sometime last Sunday, when he stepped off the DL and clobbered a home run in his first at-bat against Tampa Bay.
Sometime during that game, he did something. Because he felt the injury later that night. He described the pain as akin to a deep bruise, feeling as if he was hit with the ball.
"The odd thing is there was no play where it happened," Jeter said. "Usually, you feel it on a particular play. I didn't feel it on any particular play. We got out to Los Angeles and I began to feel it [Sunday] night and [Monday] on the off day."
Jeter went for an MRI exam in San Diego on Saturday after playing two games in Dodger Stadium and Friday night in Petco Park. Manager Joe Girardi acknowledged before Sunday's game the chance that Jeter could be headed back to the DL.
Following a setback on his broken ankle suffered during the playoffs last October, Jeter opened the season on the DL and was not activated until July 10.
A strained right quadriceps suffered in his first game back sent Jeter back to the DL. Like his current calf injury, the quad was a Grade 1 strain as well.
The common denominator is both injuries were to muscles in his right leg. Might part of that be related to favoring the left ankle he fractured?
"I don't know," Jeter said. "All I can tell you is I don't feel it. It's not something I'm conscious of. I don't know, man. I don't think it has anything to do with my ankle. My ankle feels good."
Jeter spent most of Sunday getting treatment on his calf. He did not take batting practice. He does not know if he will be able to take BP on Monday in Chicago, let alone play.
Normally outwardly unemotional, Jeter did not bother trying to mask his emotions Sunday. Someone started to ask something with the word "frustrating" in it and Jeter interrupted.
"All of it is frustrating," he said. "I don't even know what you're going to say next. Anything after frustrating, yes."
The Yankees can see it.
"Of course," starter Andy Pettitte said. "It's been horrible for him, obviously. What can you do? You deal with it. ...
"All you can do is look at him, shake your head and say, 'Hang in there, man.' That's what we're doing. Pat him on the back."
Meantime, Rodriguez will be suspended on Monday but, as colleague Jon Heyman reports, Commissioner Bud Selig apparently will not use the "best interests of baseball" clause. That would allow Rodriguez to immediately appeal his suspension, if he wishes, during which time he can play.
Because he has given every indication that he will appeal, Rodriguez now is expected to rejoin the Yankees in Chicago on Monday. Girardi said if that's the case, he will be in the lineup Monday night.
"I know I'm going to go out and pitch tomorrow at 7:05," Pettitte said. "That's all I know."
Pettitte said if Rodriguez comes back healthy, he can undoubtedly help a Yankees team that now has lost 11 of its past 17 games. They've also lost five of their past six series'.
"He's our teammate," Jeter said of Rodriguez. "If he's here tomorrow, we're looking forward to seeing him."
Closer Mariano Rivera was less than enthusiastic talking about A-Rod's apparent return.
"I don't have to think anything about it," he said. He mentioned something about "distractions," and then said, "I don't want to get involved in none of that stuff."
As for Jeter, his gut feeling on whether he'll wind up on the DL again Monday?
"Who knows?" he said. "I'm tired of trying to speculate. It's frustrating.
"We'll see what happens tomorrow."
Show Comments
Hide Comments