Inside Baseball: Is the first female GM in pro sports near? Plus more news
News on the lack of minority candidates being hired and what MLB plans to do about it, plus more news and notes from around Major League baseball.
Seven coveted general manager jobs have been filled within the last month alone, with three outside hires made and four top jobs filled from within, and all seven went to non-minorities. That leaves the Philadelphia Phillies as the final hope in this hiring season to find baseball's fourth minority GM out of 30 jobs.
Philly has been unusually mum about its search, but it was learned that Kim Ng, the former Yankees, Dodgers and Chicago White Sox executive who works in the MLB Central office, is in line for an interview there, joining Cleveland Indians executive Ross Atkins, who is interviewing this week according to sources, and ex-Marlins GM Larry Beinfest, who interviewed a couple weeks back, as the three known candidates. Ng, who has parents of Chinese descent, has an interview upcoming.
Others rumored to possibly be in the mix include Angels assistant GM Matt Klentak, Royals assistant GM J.J. Piccolo, Rangers assistant GM Thad Levine and possibly ex-Red Sox GM Ben Cherington. So Ng may actually be the lone minority hope (though there may be more under-the-radar candidates).
Ng, currently the senior VP of baseball operations, has interviewed a few times previously, including with the Dodgers, Angels, Mariners and Padres (twice), but has yet to realize her dream of becoming the first female GM, or just a female GM (both are still possible). Presumably in keeping with the wishes of Philly, Ng declined comment on the situation. New Phillies president Andy MacPhail didn't return a message.
Commissioner Rob Manfred has plenty to say on the subject of minority hiring, which is of great concern to the league office these days. When the Detroit Tigers elevated Al Avila to the GM post a couple months ago, that made it exactly three minority GMs, with the Diamondbacks' Dave Stewart and the Dodgers' Farhan Zaidi, raising the percentage of minorities in the most key baseball operations position to exactly 10 percent. (Oddly, the managerial total is even lower, and it's about to get even lower than it is, more on that later.)
In any case, Manfred understands baseball has to do better with minority hiring, and is making that goal a mission of his.
"Diversity in our workplace, particularly in high visibility jobs, is a high priority for MLB," Manfred said in a phone interview.
MLB mandates that hiring teams consider minority candidates, per the Selig Rule, and all four teams with outside hires have now done that. But that hasn't come close to guaranteeing success.
MLB isn't thrilled with the recent trend, but it also doesn't blame the clubs. And presumably, it won't blame Philly if it hires a candidate other than Ng, who will be vying for the job vacancy created by the dismissal of a rare executive minority, Ruben Amaro Jr., who may do some TV work as he awaits his next opportunity.
"I am very comfortable that in each situation the club hired the person they felt was best suited for each job," Manfred said.
He isn't blaming the team. No, he is pointing the finger closer to home.
"I am concerned that we at Central Baseball have to do a better job," Manfred said.
Well, they are working on it.
MLB often assists teams in their searches, and often it provides names and suggestions. They also aid minorities with interview skills, and they've retained executive search firm Korn Ferry to assist them in this overall endeavor. But MLB isn't in position to tell team owners and president who to hire. And its list of GM candidates is much shallower than its list of minority managerial candidates, which is in the dozens.
Manfred praised his predecessor Selig for instituting the Selig rule, which can't hurt. However, with a limited pool for the very top jobs, he sees the importance of developing future candidates by encouraging the hiring of young minorities for support jobs as paramount.
"Maybe even more important, we have to grow the pool of candidates at the entry level," Manfred said.
"Commissioner Selig did a good thing when he put in place [the minority meeting/interview] requirement," Manfred added. "We're trying to make the interview requirement more effective in terms of diverse candidates being selected,"
This is an excellent plan, but the reality is, it may take years to see the full impact. 
Baseball is undoubtedly trying.
But also discouraging are losses at the managerial level, the top on-field decision-making job. Mariners manager Lloyd McClendon seems likely to be replaced (update: the Mariners announced they were parting ways with McClendon later Friday), and presuming that happens, that would leave the Braves' Fredi Gonzalez as the only minority manager.
In just the past few years alone, Dusty Baker, Rick Renteria, Ozzie Guillen, Bo Porter have and Ron Washington (who resigned) are among minorities who lost jobs. In the case of Baker, he was fired after winning 97 and 90 games in his final two years; meanwhile, his replacement, Bryan Price, is being brought back to manage next after following that act with 76 wins, then 64 wins.
While MLB provides guidance to teams in the GM hiring process, it has developed a much longer list of managerial candidates that's seemingly growing by the firing. But some of the names on the GM list are tired of being used to fulfill the minority interview requirement.
One highly qualified candidate, the D-Backs highly respected senior VP of baseball operations De Jon Watson, has made clear that he only wants serious interviews after being used in Baltimore. The result is that no one called this winter.
But why shouldn't Watson be a serious candidate anywhere? He was at the heart of the Dodgers' very successful developmental program (when Clayton Kershaw and Matt Kemp came through the ranks) after stops with the Indians, Reds, Marlins and Royals, and he's a big part of the D-Backs' 15-game improvement in Stewart's first year in Arizona.
There were a few supposed chances this year. Dana Brown, a well-regarded Blue Jays executive with an eye for talent, received a callback for the Mariners job that went to Dipoto. Quinton McCracken, a Duke graduate who played 12 years in the big leagues, is respected and had an interview with the Red Sox before they promoted Mike Hazen instead. McCracken is currently in player development for the Astros. Meanwhile some other interviews felt suspiciously like the token variety.
Manfred says they are working hard to prevent sham interviews, but everyone in baseball knows they still happen, on occasion, and that's a shame.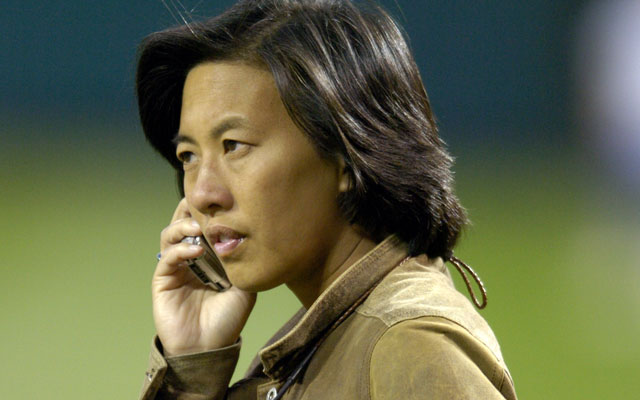 Arizona Diamondbacks

News

The Diamondbacks wound up having one of the better outfields in baseball with

A.J. Pollock

,

Ender Inciarte

and

David Peralta

all making big progress this year. They will look at a long-term deal for at least Pollock ... The hitting was excellent across the board in Arizona. Hat tip to hitting coaches Turner Ward and Mark Grace ...

Nick Ahmed

is as good as anyone defensively at shortstop, D-Backs people believe ... Starting pitching will be the focus for the D-Backs this winter. Of the young guys,

Rubby De La Rosa

and

Robbie Ray

gave themselves the best chance to make next year's rotation ... The Diamondbacks plan to pick up

Brad Ziegler

's $5.5-million option rather than buy him out for $1 million. The D-Backs love the job he did, though he could transition back to the set-up role if they get the closer they seek. (As we know,

Aroldis Chapman

is high on their list.)

Atlanta Braves

News

Atlanta will focus on pitching and catching this winter.

A.J. Pierzynski

, who hit well again for the Braves, is one catching possibility.

Matt Wieters

, a Georgia Tech product, could be another.

Baltimore Orioles

News

Owner Peter Angelos' mandate that GM Dan Duquette and manager Buck Showalter nicely co-exist was the correct call. Both are excellent baseball people, and for all the issues that have cropped up, the Orioles still have won more games than anyone else in the AL East over the last four years. Though, there have been clear signs of difficulties lately, including stories popping up about how Showalter could wind up as Orioles GM. That seems far-fetched, as Angelos and Showalter could have arranged that a year ago by simply letting Duquette interview for the Jays GM job ... What did them in this year was a 3-18 run in August, and an 0-7 mark against Minnesota ... There's been debate about whether to give Wieters the qualifying offer after his off year. No player has ever taken the qualifying offer, though Wieters had a rough year in his walk year ...

Kevin Gausman

is still seen as a potential star but is believed to need work on his secondary pitches ... Baltimore may have to rethink some developmental or coaching issues after seeing

Jake Arrieta

blossom to become a pitching superstar in Chicago. It's possible Arrieta needed only a change of scenery, but one scout said he sees a "cookie cutter" operation in Baltimore, where all the young pitchers throw the same way, on a straight line to the plate. The scout says that may hinder the potential for deception. Arrieta tells friends a similar story about how he,

Brian Matusz

,

Zach Britton

and

Chris Tillman

-- four very different pitchers -- were all given similar instructions.

Boston Red Sox

News

Some are speculating that Boston could possibly become a player for

Matt Harvey

. The Red Sox obviously need an ace, as new baseball president Dave Dombrowski loves hard throwers and the Mets could listen (though they say they won't discount) after the late-season controversies. As a bonus, Harvey is from Groton, Conn., which is Red Sox territory. One issue could be what to give up: No one can see them parting with budding star

Xander Bogaerts

... The Red Sox should have plenty of company in their search for a top starting pitcher. One prominent agent opined that there are expected to be eight teams in play for the very top free-agent pitchers, including also the Giants, Dodgers, Cubs, Angels and Yankees ... Things looked much better in Boston by the end, with Bogaerts and

Mookie Betts

completing big seasons, and

Jackie Bradley

Jr. "mashing the ball," as one Red Sox person put it ... The Red Sox under Dombrowski will tilt back a bit toward scouting after relying more on sabremetrics in recent years. The numbers helped win them a title in 2013 but it also brought them

Hanley Ramirez

, who now must try to learn first base.

Chicago Cubs

News

One thing the Cubs should be prepared for is more bunting on

Jon Lester

. The scout of one playoff team says one team has a plan to bunt (a lot) on Lester to the third base side. Lester is a great pro with an even greater postseason record. But the scout suggests the goal is to "frustrate" him via the bunt ... The Cubs are expected to take a look at the big starters who are free agents such as

David Price

and

Jordan Zimmermann

, but perhaps their biggest contract meeting will be with sudden superstar Jake Arrieta, who they will try to lock up this winter, if possible. While Arrieta has Scott Boras, he also was previously in a place where it didn't work at all, and seems to understand it wouldn't be such a bad idea to stay in Chicago ... Joe Maddon is moving into the all-time-great category. "He creates an atmosphere where guys play loose," one rival scout said, admiringly. (One quibble:

Tommy La Stella

is not a No. 5 hitter but a "seven or eight hitter," one scout said) ... The Cubs have made a lot of brilliant moves but they may have caught a break in the draft a couple years ago when the Astros picked Mark Appel No. 1, leaving

Kris Bryant

for Chicago. The Cubs love taking college hitters high for their predictability (they took

Kyle Schwarber

the next year), so they may still have taken Bryant, but it's no certainty they would have. Bryant ("so agile, so instinctive," says one scout) has turned out to be a brilliant all-around star, with the cutting down on strikeouts only area for improvement ... Center field will be an area of need, and they haven't ruled out a run at

Dexter Fowler

, who is said to have been "awesome" in the clubhouse, as well as on the field.

Denard Span

and

Austin Jackson

, who is a backup for them now, are two more center field options. Prospect Albert Almora, a former No. 1 pick out of high school in Miami, is a couple years away.

Cincinnati Reds

News

Todd Frazier

could be a candidate for a long-term deal ...

Billy Hamilton

will apparently keep his center field job, after a rough offensive season ... The rotation is still a mystery after a second half of starts almost exclusively by unproven rookies.

Colorado Rockies

News

Walt Weiss is absolutely beloved by the Rockies-owning Monfort brothers and liked, too, by his players. But word is he still had concerns about his job because he wasn't certain where first-year GM Jeff Bridich stood. Weiss's lifetime winning percentage, a hideous .428, is not his fault of course, and Bridich ultimately agreed.

Houston Astros

News

Manager A.J. Hinch is winning praise throughout the organization for handling the young clubhouse beautifully. While his hiring a few years back in Arizona was roundly criticized by scouts for his non-traditional route (through the front office), that might have come from an old pack mentality. Anyway, Hinch is a natural. "They should not be blown out of the water (in the ALDS). The effort has never been compromised," one scout said ... Pitching coach Brent Strom has done a nice job. Strom's claim to semi-fame as a pitcher was being the second one to get Tomy John surgery ... One key to the Astros, baseball people say, is whether

Chris Carter

is hot or cold. In answer to whether Houston has a chance, one person said, "Depends which Chris Carter shows up." A.J. Reed, a slugger from the University of Kentucky, could be ready next year ... Some Astros people have concerns about Game 2 starter

Scott Kazmir

, who in the words of one scout "seems to find a way to beat himself" sometimes ... The bullpen, a scout said, can only be described as "mediocre," which is actually a major improvement over where they were last year.

Luke Gregerson

is said to have the "makeup of a closer but not the stuff ... he should be a seventh- or eighth-inning guy." ...

Jose Altuve

, said by one Astros person to be "the most goal-oriented person I've ever met," recorded six hits in his final two games to become the first Astro to post consecutive 200-hit seasons ... Former scouting director Bobby Heck, now with the

Tampa Bay Rays

, deserves an assist, as he was the one who drafted

Dallas Keuchel

in the seventh round. Keuchel was their MVP of the regular season, and the Wild Card game. Heck also drafted

J.D. Martinez

, now with the Tigers ... The Astros caught a bit of a break when Mark Appel and Byron Buxton weren't as receptive to pre-draft below-slot suggestions, making the decision easier to sign

Carlos Correa

(they are said to have liked all three players), also for a below-slot $4.8 million. That allowed them to draft

Lance McCullers

Jr. and pay him an above-slot number later. As it turned out, the Astros drafted Appel a year later as the No. 1 pick and signed him. Appel hasn't moved nearly as quickly as hoped. One scout said he still sees him as a major-league starter, though maybe a back-end rotation guy ... The Astros' minor-league teams did as well as anyone's, though they took the unusual step of firing about a half-dozen development people, including coaches, and re-assigning a couple more. GM Jeff Luhnow says through a spokesman he's happy with the way things are going and they don't plan a system overhaul. Among the dismissed was 2014 interim major-league manager Tom Lawless, a respected guy who is famous for one of the all-time great bat flips in big league history.

Kansas City Royals

News

Even after the loss of their closer Greg Holland, scouts suggest the Royals have a better bullpen situation than just about all the playoff teams.

Wade Davis

, who's been a set-up man until Holland went down, may be the top closer left (though LA's

Kenley Jansen

is pretty good). Holland would be a non-tender candidate unless a two-year deal can be worked out in Kansas City.

Los Angeles Angels

News

The Angels are expected to look for a big bat, especially a lefty one, with third base and second base the targets.

David Freese

is a free agent, and while the

David Murphy

$7-million option is reasonable and they could still pick it up, they may try for a more impactful bat for left field.

Los Angeles Dodgers

News

Clayton Kershaw turned down a $300-million deal several months before signing for $215 million over seven with a five-year opt out, and while some are second-guessing that call, as a friend of of Kershaw's noted, "Only he can gamble and win that (bet)." ...

Zack Greinke

will use his opt-out provision to win a big raise, and while some figured last year he'd surely leave the Dodgers based on some clubhouse issues, word is he likes the clubhouse much better this year. It certainly is a more low-key group in LA now ...

Yasiel Puig

is on the NLDS roster, though he won't necessarily start immediately. He is said to have had a "miraculous" recovery from hamstring trouble ... In continuing moves by the new regime, the $300-million Dodgers let go both their advance scouts, Willie Fraser and Gary Pellant, plus about 18 development people. They are going with numbers, and video, but that's a lot of firings. (Personal note: I covered Fraser as Angels beat writer in the late '80s and he is one terrific dude.) ... The Dodgers offered something short of $2 million for Cuban OF Eddy Julio Martinez, who looks like he might be headed to the Cubs now after a deal with the Giants may have fallen through. It is reported that he will sign with the Cubs, but that may be uncertain and it is possible he sticks with San Francisco. The Cubs deal may not be final and there seems to be some hope on part of the Giants to keep him based on the first deal ... Get well soon to Vin Scully, the greatest baseball announcer ever.

Miami Marlins

News

Dan Jennings

is expected to return to the front office as GM as early as Sunday. We have more details on that here ... The Marlins are known to have interviewed Manny Acta, Bo Porter and Larry Bowa for their managerial job. But some believe that Loria is ultimately hoping to land Don Mattingly. We have more details on that here ... The Marlins are plotting to make an extension for

Dee Gordon

one of their first orders of business after they first find a new manager. Loria loved Gordon when he got him, and Gordon wound up becoming the first NL player to lead the league in batting average and stolen bases since Jackie Robinson. He led in hits and should probably win a Gold Glove.

Minnesota Twins

News

Twins people loved the job

Torii Hunter

did in the clubhouse and are expected to try to bring him back for another year. Hunter's influence seems undeniable. In his first years with teams, there always seem to be noticeable improvement (it was plus-6 wins with the Angels, plus-12 with the Tigers and plus-13 with the Twins). Meanwhile, the year he leaves has the opposite effect (it was minus-11 wins in Anaheim and minus-16 in Detroit). He will turn 41 next season ... Pitching will be the focus for the Twins this offseason, both starting and relieving.

Milwaukee Brewers

News

Milwaukee needs: Starting pitching, third base, five new coaches ... Former Red Sox GM Ben Cherington declined a chance to interview for the GM jobs in Milwaukee and Seattle is the word.

New York Mets

News

Matt Harvey isn't the most popular man in the clubhouse after arriving late to a mandatory workout this week. Harvey already didn't get along great with his bosses in the front office, so the chances for a trade seem to be increasing ...

Steven Matz

last workout was encouraging, so he's good to go.

New York Yankees

News

While the Yankees may be disinclined to go for the big-ticket pitching items (i.e. David Price, Greinke, etc.), there is expected to be real interest in free agent right-hander

Jeff Samardzija

. We have more details on that here ... Cashman is correct in that the Yankees didn't "over-achieve" this year. Frankly, they were simply much better than they were given credit for. The winter pickups all worked, including

Andrew Miller

,

Didi Gregorius

,

Nathan Eovaldi

and

Justin Wilson

(though

Francisco Cervelli

was obviously very good in Pittsburgh)... Second base was a rough spot this year, but it appears the Yankees are leaning toward going with

Robert Refsnyder

and

Dustin Ackley

next year. They do like both

Ben Zobrist

and

Martin Prado

, who provide the type of versatility they loves, as Joel Sherman of the New York Post reported ... One reason Ellsbury would have been a better choice than

Brett Gardner

to play the Wild Card Game is Ellsbury's excellent postseason history. The front office was in agreement with Joe Girardi's call to go with Gardner due to a better year this year and more productivity over the last two years. Ellsbury was said to be healthy, but he wasn't the same player after injuring his knee in Washington in the first half ... Assuming

Mark Teixeira

heals, he is the first baseman next year, which means

Greg Bird

, who has options, may have to go back to the minors. There wouldn't appear to be room as things stand now for Aaron Judge, either, so it's possible they could use these players to get the ace pitcher they'd like to have.

Pittsburgh Pirates

News

The Pirates haven't said much aloud on the subject but their team was extremely frustrated to have drawn Arrieta for the Wild Card Game only a year after drawing

Madison Bumgarner

. The interest in a three-game series for the Wild Card seems to be growing. (For the record, I like the "theater" of the one-game playoff, the season is long enough, and one game often determines playoff spots over 162 games, anyway, as was the case with the Angels missing this year and the Mariners last year.) That frustration looked like it came out with

Tony Watson

's plunking of Arrieta's hip and

Sean Rodriguez

pummeling the water cooler ... Despite the ending, it was quite a year for Clint Hurdle,

Andrew McCutchen

,

Starling Marte

and Co.

St. Louis Cardinals

News

Yadier Molina

declared himself "good to go," which is a major boon to St. Louis. But his thumb is still not 100 percent.

San Diego Padres

News

Brad Ausmus and Torey Lovullo, two managers who would have interested the Padres, have been taken off the board, as Detroit decided to bring back Ausmus and Boston signed Lovullo to a better bench coach deal to keep him ... While there's an obvious connection to Ron Washington (both A.J. Preller and Don Welke know him and like him from Texas), people close to the situation see that as a long shot ... There's been some suggestion the Padres will offer the qualifying offer to

Ian Kennedy

, but some rival GMs are skeptical. (They don't see how San Diego can take a chance that he takes an offer that will be for close to $16 million) ... The consensus is they'd have to significantly pay down

James Shields

' remaining $63 million to have a chance to trade him.

San Francisco Giants

News

The Giants thought they had a deal with Cuban outfielder Eddy Julio Martinez for $2.5 million, but Jesse Sanchez of MLB.com reported Martinez is now going to the Cubs for $3 million. The Giants like Martinez's athleticism, though assuming the Cubs deal sticks, they'll have to admire him from afar. However, the Giants had an agreement, and haven't given up hope they can still sign Martinez ... The Giants plan to pick up

Nori Aoki

's $5.5-million option rather than buy him out for $700,000. He had a big first half ... The Giants are thinking about a non-guaranteed deal for iconic pitcher

Tim Lincecum

, as Henry Schulman (@hankschulman) reported, but that might be a long shot, particularly if Lincecum quickly recovers and gets on the mound in five weeks or so, as hoped ... The Giants will target one or two starters, and of course have their own

Mike Leake

on their list. But word is, they will look at the top guys, including Price and Greinke (though it's hard to see the Giants letting Greinke go to the chief rival).

Seattle Mariners

News

The consensus is that new GM Dipoto will make a change at manager soon. We have more details on that here. 

Texas Rangers

News

Scouts say the Rangers are a bigger threat than folks are giving them credit for. "They are a mirror of Toronto," one scout says, noting the firepower, excellent defense and nice one-two pitching punch ... Second baseman

Rougned Odor

continues to look like a budding star ... The bullpen needed a break after finishing "on fumes," one scout noted.

Sam Dyson

, who came from the Marlins, has been terrific ...

Delino DeShields

Jr. has become a very impactful Rule-5 pickup. There's some consternation in Astros ranks over letting him go to keep some nondescript pitchers. 

Toronto Blue Jays

News

The Blue Jays have a good one going in Game 2 of the ALDS.

Marcus Stroman

, since returning from ACL knee surgery, has been "nails," says one scout, adding that "he gave up nothing" in his two starts ... Manager John Gibbons is said to have described his managing style to a rival this way: His goal is not to get in the way. Gibbons is said to have told the rival, "I'm the only one who can screw this up." ... One scout said he thought the Blue Jays showed a bad sign when they mailed in Saturday's game at Tampa with a chance to win the home-field advantage ...

Mark Buehrle

, who got through this year with the help of multiple shots in the shoulder, was undermined the next day by his defense and the umpire, failing to get out of the first inning for the first time in his illustrious career. Hard to believe, he and

CC Sabathia

were drafted in 1998, CC in the first round and Buehrle in the 38th round, and they both have won exactly 214 games, as Christopher Kamka (@ckamka) of Comcast SportsNet Chicago. Buehrle is expected to retire, and what a career it has been: 14 straight years of 200-plus innings, multiple Gold Gloves, no-hitter, perfect game, amazing consistency (13 to 16 wins in 13 of 15 years, 10 in one, 19 the other) ... Two early estimates for David Price: $180 million, and $180-200 million. Considering the extra importance to have an ace now in case of a Wild Card Game, I think those estimates may be light ... While the subject of the qualifying offer for hot Jays pitcher

Marco Estrada

has been bandied about by team higher-ups following his excellent season, the fact he's only done this once makes it something of a risk. One rival GM offers some advice, "No chance."

Washington Nationals

News

Bud Black continues to be seen as logical candidate in Washington. Ron Gardenhire is seen by some as another one who would fit. As would Dusty Baker.

Major League Baseball News

The qualifying offer is expected to be a record $15.8 million, give or take a few pennies. The exact number will be determined early in the week.
Show Comments
Hide Comments
Our Latest Stories
The 2015 NL MVP wasn't nearly as good in 2016, but the team around him was much better

Eduardo Nunez is not content to watch a ball fall harmlessly behind the plate for a strike

It's the Nats' third division title in the last five years
Runs are hard to come by for the Yanks right now

Jose Fernandez won't be starting on Sunday against the Braves as planned

Detroit suffers a crushing loss on a Royals rally to fall into a tie for the second wild c...