Inside Baseball: Top 50 free agents, ranked by dollars and projections
With the Hot Stove season well underway, we rank the top 50 free agents (by dollars) who could be on the move this winter in Part 1 of this weekend's Inside Baseball column.
More Inside Baseball >>> Dodgers manager search; Ozuna trade market; more notes.
The shopping begins Sunday at Boca Raton, Fla., a fittingly fancy spot for MLB general managers to gather to begin and gauge a free-agent market that looks strong, especially if you're looking for a starting pitcher or an outfielder.
There's practically a rotation full of aces, and a deep roster of solid-to-good starters, as well. The outfield group is star-studded. While the infield list is about average, it's very strong at second base. The only notably weak area is the bullpen. (So if teams want to copy the World Champion Kansas City Royals ' formula for success, it won't be easy -- though a couple big relievers, such as Aroldis Chapman and Craig Kimbrel , could come up in trade talks.)
"This the deepest (free-agent) market in memory, especially in terms of pitching and power," one agent noted.
Here are the top 50 guys, with comments and projections of their total hauls. (While there's been the usual columns written elsewhere about how free agents will be disappointed this year, there's no reason to believe that's true, and if the liberal stances taken regarding qualifying offers is any indication, this free-agent class may actually do even better than most expect).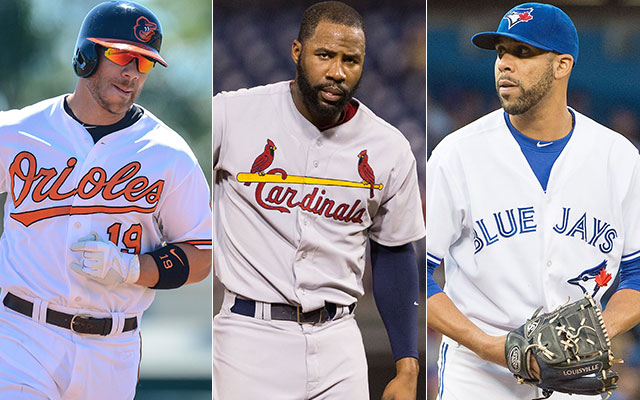 Last Team
Free Agent:
The call

1.

David Price

, SP

He throws hard, logs big innings, never had any arm trouble, just turned 30 and is generally considered one of the game's best pitchers. He's also a very good team player, as was shown in this year's postseason. The only knock is the uneven career October performances. There's no reason to think he won't match

Max Scherzer

's haul from a year ago. The Dodgers and

Chicago Cubs

, who have the wherewithal, the interest and the connections are the early favorites. It wouldn't shock anyone if new

Boston Red Sox

president Dave Dombrowski, who traded for him in Detroit, takes a peek. Toronto isn't going to pony up this kind of money, no matter what anyone says now.
$210M, 7 years.

2.

Chris Davis

, 1B-RF

The slugger who's hit 45-plus home runs two of the last three years goes into free agency with a bang. It doesn't hurt that he can play first base well, right field adequately and third base and left field passably. He's been connected to the

Seattle Mariners

, Red Sox,

Toronto Blue Jays

and

St. Louis Cardinals

. But the

Baltimore Orioles

, which just won a big-buck lawsuit, probably need to do what they can to keep him. One caveat: If he stays, he probably still gets less.
$182M, 7 years.

3.

Jason Heyward

, RF-CF

Some might suggest he hasn't lived up to his billing, and yet, he's about to sign a contract that approaches $200 million. He's one of the best defensive outfielders in the game, runs the bases well and shows occasional pop. The big bonus is that he's still only 26. The knocks: not a proven 3 or 4 hitter, and great vs. left-handers. 
$180M, 9 years.

4.

Zack Greinke

, SP

Folks can knock the history of big free-agent deals for starting pitchers all they want, but Greinke's first $147 million deal was boffo for the Dodgers. He opted out with $71 million to go, but should easily double that. LA likely has him as its top target after his 1.66 ERA and possible Cy Young Award, with Price as the second call. The

San Francisco Giants

and Cubs are other obvious possibilities.
$165M, 5 years.

5.

Justin Upton

, OF

He's a big power hitter and he's only 28. While he's frequently been on the trade block, there's really no good reason for it. He should get more than

Jacoby Ellsbury

's $153 million.
$161M, 7 years.

6.

Yoenis Cespedes

, OF

Some may nitpick his postseason, but his incredible power-speed combo should play. he sparked the

New York Mets

like no other summer pickup, and he showed he's willing to play center field (though he's much better in left).
$150M, 6 years.

7.

Johnny Cueto

, SP

He answered the doubters with two enormous postseason performances, the most vital one in Game 5 of the ALDS (and the complete game in Game 2 of the World Series wasn't bad, either). He was throwing up to 95 mph, so there's no reason to give credence to the whispers about his elbow. It is fair to say he wasn't as good with the Royals as he's been all these years with the

Cincinnati Reds

. But he finished with a flourish, despite a couple uncharacteristic performances late.
$144M, 6 years.

8.

Jordan Zimmermann

, SP

He did what he needed to do to get the nine-figure deal. The Nats were a mess this year, but he remained solid. The Cubs make sense for the Wisconsin product.
$115M, 5 years.

9.

Alex Gordon

, OF

The Royals probably won't give him more than three or four years, as they hope to capitalize on a possible hometown discount (Gordon is from Lincoln, Neb.) but he probably can get five elsewhere. The best left fielder in the game. The Orioles,

Houston Astros

, Cubs and

Chicago White Sox

were heard as four of many possibilities.
$100M, 5 years.

10.

Ian Desmond

, SS

After a very rough start, he showed some semblance of his considerable talent in the second half.
$90M, 6 years.

11.

Jeff Samardzija

, SP

Scouts still love him -- the athleticism, the competitiveness, the arm (and the lack of innings on that arm). Yet, his platform year was mostly a disaster. He has some connections to the

New York Yankees

and

Detroit Tigers

, who both need starters. The guess is, he still recovers what he turned down with the Cubs.
$85M, 5 years.

12.

Wei-Yin Chen

, SP

One of the most underrated pitchers in the game, who did well pitching in a hitters' park and in a hitters' division, and he should do well here. The second best lefty on market.
$80M, 5 years.

13.

Yovani Gallardo

, SP

He went home, and did a terrific job. Texas would like him back, but that bat is wasted in the AL.
$75M, 5 years.

14.

Mike Leake

, SP

He is consistent, durable and productive. He also can hit. The Giants,

Arizona Diamondbacks

and many, many others will be in play.
$70M, 5 years.

15.

Daniel Murphy

, 2B-3B-1B

He put together a postseason for the ages. He hits the best pitching and is very versatile, which could put him in play for a lot of teams. The

Los Angeles Angels

make particular sense, though.
$64M, 4 years.

16.

Ben Zobrist

, INF-OF

He fit the Royals perfectly, as he filled in for Gordon while he was out, then filled in for second baseman

Omar Infante

when he was out. KC likely won't bring him back, but he could wind up almost anywhere else.
$60M, 4 years.

17.

Marco Estrada

, SP

Like Murphy, he enhanced his value big-time in October. Despite being a soft tosser he thrived in a tough park and in a very tough division. Maybe he's turning a corner.
$56M, 4 years.

18.

Ian Kennedy

, SP

Hard to believe, he was second among free agent starters in strikeouts per nine innings (to Price). He rallied after a slow start and should do fine. The

Milwaukee Brewers

, Tigers and others make sense.
$52M, 4 years.

19.

Colby Rasmus

, OF

His big postseason should serve him well. The Astros may look for more of an on-base guy for left field, though. Quirkiness hurt him last time, but the big finish supersedes that.
$50M. 4 years.

20.

Dexter Fowler

, OF

He did a wonderful job as the leadoff man on the North Side.
$48M, 4 years.

21.

Howie Kendrick

, 2B

He's a fine hitting second baseman and a plus in any clubhouse.
$44M, 4 years.

22.

Matt Wieters

, C

He's a switch-hitting catcher with power, and while he didn't have a particularly good year, he's the best catcher out there. He'll be a year removed from Tommy John surgery.
$42M, 3 years.

23.

John Lackey

, SP

He put together another very nice season in St. Louis (for the minimum, no less). He won't have to take the minimum this time.
$42M, 3 years.

24.

Scott Kazmir

, SP

He's still young but he's been through a lot, and also a lot of ups and downs. Didn't quite do it later after a nice beginning for his hometown team.
$39M, 3 years.

25.

Denard Span

, OF

An injury-plagued year kept the Nats from extending the qualifying offer. That will actually help him.
$36M, 3 years.

26.

Gerardo Parra

, OF

He had a big first half with the Brewers, and excellent technical play has won him admirers (among them: Baltimore manager Buck Showalter, Nats GM Mike Rizzo). Those two teams could be among those in play.
$33M, 3 years.

27.

David Freese

, 3B

He hasn't won the batting title as predicted, but he is a league average third baseman with a knack in the clutch.
$30M, 3 years.

28.

Austin Jackson

, OF

He's a great defender in center field, although he had a rough year at bat and wound up as mostly a defensive replacement. Big plus: no qualifying offer.
$30M, 3 years.

29.

Hisashi Iwakuma

, SP

He came back in time to save his free agency status. The qualifying offer is a bit of a drag here, though. He probably goes back to the Mariners.
$28M, 2 years.

30.

Brett Anderson

, SP

Hard to believe he got a qualifying offer. But the Dodgers obviously like this fellow. If he doesn't take the one-year bid maybe he turns it into two in LA.
$25M, 2 years.

31.

J.A. Happ

, SP

He became the latest pitcher to discover something great in Pittsburgh. Also made himself a lot of money. Probably best to stay with the

Pittsburgh Pirates

.
$25M, 2 years.

32.

Darren O'Day

, RP

The terrific set-up man was previously excised by both the Angels and Mets. But after a career resurrection in Baltimore, he is extremely popular. The Tigers, Red Sox, Dodgers and Nats are said to be at the forefront of talks.
$25M, 3 years.

33.

Tyler Clippard

, RP

He had his moments in 2015 and is especially good vs. lefties (.138 BA).
$21M, 3 years.

34.

Doug Fister

, SP

Things didn't end well in Washington, but perhaps he becomes a bargain with a change of scenery.
$20M, 2 years.

35.

Asdrubal Cabrera

, SS

Big second half should get him a multiyear deal this time.
$20M, 2 years.

36.

Joakim Soria

, RP

He looks like he's back to his old self, and should draw major interest.
$16M, 2 years.

37.

Ryan Madson

, RP

He could have won Comeback honors, and should now turn it into a multiyear deal. Good for him.
$15M, 2 years.

38.

Mike Napoli

, 1B

He's turned himself into an excellent defensive first baseman, and he hit better when he got back to Texas.
$15M, 2 years.

39.

Chris Young

, OF

He's played well in the Bronx, and with depth at a premium, he should do well.
$11M, 2 years.

40.

Bartolo Colon

, SP

He became a sensation in New York as much for his hitting as his pitching. Just an amazing man.
$10M, 1 year.

41.

Nori Aoki

, OF

He was hoping to have his $5.5 million option picked up but he should do as well as a free agent after a nice first half.
$10M, 2 years.

42.

Steve Pearce

, 1B

He proved to be a useful piece in Baltimore.
$10M, 2 years.

43.

Jimmy Rollins

, SS

The defense is still holding up.
$8M, 1 year.

44.

Alexei Ramirez

, SS

The $10 million option was declined but he looked much better in the second half.
$8M, 1 year.

45. Chris Young, SP

His big October performance can't hurt. The Royals would like him back.
$7M, 1 year.

46.

Alex Rios

, OF

He remains a solid performer, and his first postseason ended with a ring.
$7M, 1 year.

47.

Rajai Davis

, OF

He can hit, he can run and he can play some center field.
$6M, 1 year.

48.

David Murphy

, OF

His $7 million option was declined, but he should still get close to that number.
$6M, 1 year.

49.

Chris Iannetta

, C

He may do better with new scenery.
$6M, 1 year.

50.

Tim Lincecum

, SP

The Giants are hoping to get him back on a non-guaranteed deal. But his doctor is predicting big things.
$5M guaranteed (plus incentives).
 
Show Comments
Hide Comments