Is Andrew McCutchen's return enough to save struggling Pirates?
NL MVP Andrew McCutchen is returning to the Pirates soon. They've lost six straight. Is he enough to turn things around?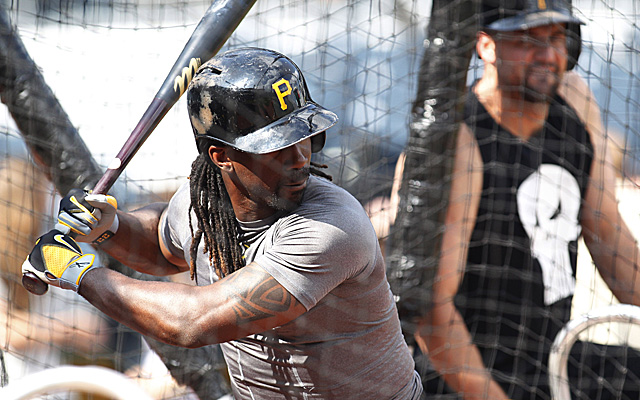 More MLB: Power Rankings | Expert Picks | Latest news & notes | Fantasy news
After a 7-3 loss to the Braves in PNC Park Monday night, the Pittsburgh Pirates have now lost a season-worst six straight games. They've fallen six games behind Milwaukee in the NL Central and are now two games behind San Francisco for the second NL wild card.
On Tuesday, though, it's likely the Pirates get NL MVP Andrew McCutchen back from the 15-day disabled list.
So that's all they need, right? Cutch will get them right back on track?
I'm not so sure.
McCutchen is again going to be in the mix for MVP, deservedly so, and is obviously one of the five best baseball players on the planet. He's also not a pitcher.
During the losing streak, the Pirates are giving up an average of nearly six runs per game. Now that Vance Worley has returned to Earth, the Pirates don't have a single pitcher we could definitely, confidently say is better than league average in the rotation. Francisco Liriano has a 3.78 ERA. Gerrit Cole has had several setbacks as he attempts to return from injury, and he also has a 3.78 ERA anyway. Edinson Volquez? Nope, I'm not calling him better than average.
Can we truly take a team seriously as a contender with an entire rotation of mediocre pitchers?
The Pirates have also had a few bullpen and defensive issues of late, too. Pedro Alvarez's issues at third base are so bad that the Pirates started him at first Monday night. Tony Watson has a 4.50 ERA in his last 16 appearances. Those are just two examples of recent struggles.
The schedule isn't going to do the Pirates any favors, either, at least in terms of its strength.
The Pirates still have six more games against the Braves, as well as six against the Brewers, Cardinals and Reds. They do have six against the Cubs, though Chicago is actually 12-9 in the last three weeks. There are also three games against the Red Sox, who are a lot more talented than a garden variety last-place team. The four games against the Phillies do make for a so-called cupcake series, though.
Still, that's a tough remaining slate for a team that is playing its worst ball of the season.
We could paint a different picture, of course. Playing so many teams contending for the wild-card spots, the Pirates have a chance to control their own destiny. The return of McCutchen will help significantly, too, as it could push Travis Snider to the bench with Starling Marte hitting the ball well. This is on top of McCutchen being awesome at baseball. The NL wild card field is wholly unimpressive at this time, too.
Make that argument and you'd get no real complaint from me, but I simply don't see the starting rotation being good enough to hold up and the Pirates can only outhit the opposition so many times. McCutchen helps, but he can't single-handedly solve the pitching issue.
Show Comments
Hide Comments