Is David Price the right trade piece for Mariners, Cards or Dodgers?
Team by team rundown: Should the M's, Cards or Dodgers, each already in possession of an ace, deal top prospects to get the Rays' David Price?
More MLB: Power Rankings | Expert Picks | Latest news & notes | Fantasy news
A lot has happened in the past month to the Tampa Bay Rays and superstar pitcher David Price to change his potential trade equation.
For one, they've taken off, thanks in part to their medicine man (witch doctor), but mostly thanks to Price, Joe Maddon and the rest of the perennially tough crew.
For another, Price has raised his value significantly by pitching lights out. He is 4-0 with a 0.85 ERA and 0.85 WHIP in July alone, a dominance he's continued from weeks before.
He's not only a trade candidate, but also a Cy Young contender.
With Price and the Rays clicking, smart speculation has been the Rays may not trade Price or sell at all. In a tight AL East, while they remain close to last place, they are only eight games out.
At this point it's fair to say there's a pretty fair chance Price stays in Tampa, as he's said all along he prefers. So understand that any speculation here comes with the caveat there's a decent likelihood he goes nowhere. This is more, just in case ...
Of course, the other side of the story is Price's value could not be any higher. Not only is he the hottest pitcher in the game at the right time but he isn't a free agent until after next season, meaning acquiring teams will have his services for at least the rest of this season and next season, too.
I previously suggested the Los Angeles Dodgers shouldn't send most of their top prospects east for Price, and while things haven't changed since (though Price's value certainly has, to the better), I'm taking a look at whether the any of the three teams -- the three teams thought most likely and perhaps best-equipped to make a run at Price -- should trade their top prospect(s) for Price.
Oddly enough, those teams are the Seattle Mariners , St. Louis Cardinals and Dodgers. The reason it's odd is those may be the only three teams in baseball where Price wouldn't be the ace and instead would have to settle for being the No. 2 pitcher. (That could be true of the Tigers, Red Sox, Rangers and another team or two, as well, but those are the very three where it seems pretty clear he'd slot in at No. 2.)
That's a coincidence. But what is not a coincidence is all three of those teams possess top prospects who could form a trade package for Price. So let's take a look at whether the Mariners, Cardinals and Dodgers should take the plunge on Price:
1. Mariners: There's a lot of pressure on GM Jack Zduriencik to do something bold because Seattle's two chief rivals, the A's and Angels, not only have started to pull away but also made impact deals this month. Oakland added Jeff Samardzija and Jason Hammel in a blockbuster deal with the Cubs and the Angels imported Huston Street , Jason Grilli and Joe Thatcher to fortify their bullpen.
Offense is obviously Seattle's key area of need with a league-low OPS .687 (yes, the Mariners are dead last, despite being in the playoff hunt). The Mariners need a hitter (or two) but appear to be having difficulty finding the right lineup-boosting player in a very thin hitting market. So perhaps it wouldn't hurt to instead try to form the AL's best rotation.
Price hasn't seemed anxious to uproot for the 3,000-plus-mile move to Seattle, but as he's said, he's a pro and would deal with whatever team came calling. The Mariners have top pitching prospect Taijuan Walker , an athletic, hard-throwing right-hander who very likely will be a star. But Price is their chance to form a daunting playoff rotation the rest of this season and next, with underrated star Hisashi Iwakuma slotting behind King Felix and Price. My verdict on trading Walker (and others) for Price: Thumbs up.
2. Cardinals: It isn't like them to trade their best prospects to acquire an expensive star. But perhaps they should make an exception. Let's look more closely.
The Cardinals are only 1½ games out in a tight NL Central despite first-half underperformance, and no one should assume they'll win the division easily, not with star catcher Yadier Molina out until at least September. They recently got better news on 2013 postseason star Michael Wacha recently, but they could guarantee a dynamic playoff rotation by importing Price.
Right fielder Oscar Taveras has been called the best hitting prospect in baseball, and would almost surely have to be part of a package for Price, though second baseman Kolten Wong and young right-hander Carlos Martinez are among others that give St. Louis a stash of great under-25 talents.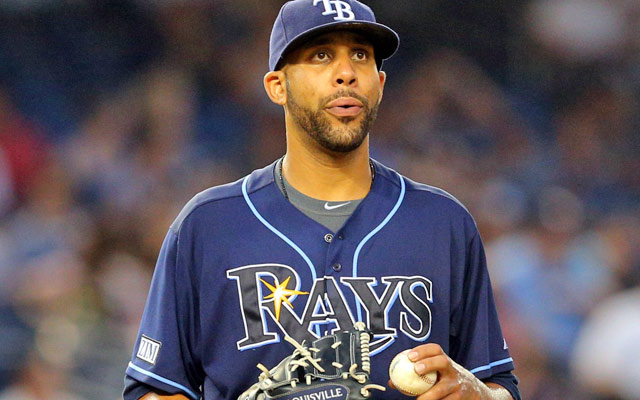 While Taveras is terrifically talented, there are enough concerns that trading him shouldn't be off (nor is he believed to be off limits). Beyond that, the Cardinals have a logjam in the outfield already, with more talent to come in the form of Stephen Piscotty, James Ramsey and Randal Grichuk .
St. Louis doesn't usually have $20 million players, as Price would be next year ( Adam Wainwright and Matt Holliday are close), but they could make an exception for Price. My verdict on trading Taveras (and others) for Price: Thumbs up.
3. Dodgers: They definitely have prospects, between shortstop Corey Seager, outfielder Joc Pederson and pitchers Julio Urias, Chris Anderson and Zach Lee. And you know they have the money, even if they are already into this season for a record $230 million.
Everyone loves Price, of course, but the Dodgers also have a little extra connection, as top club executive Gerry Hunsicker was previously with Tampa, and is said to have great admiration for Price. The issue here is the need. Not only do the Dodgers have the best pitcher in baseball in Clayton Kershaw , they probably have the best No. 2 in Zack Greinke , and excellent Nos. 3, 4 and 5 in Hyun-Jin Ryu , Josh Beckett and Dan Haren .
The Dodgers have done an extremely good job gathering prospects, and their top ones are among the best. The question is whether it's worth hurting their future when they are the team least in need of a starting pitcher. My verdict on trading Seager (and others) for Price: Thumbs down.
Show Comments
Hide Comments