Is Heath Bell the next miracle Rays reliever?
After Kyle Farnsworth and Fernando Rodney, is Heath Bell the next great turnaround in Tampa Bay?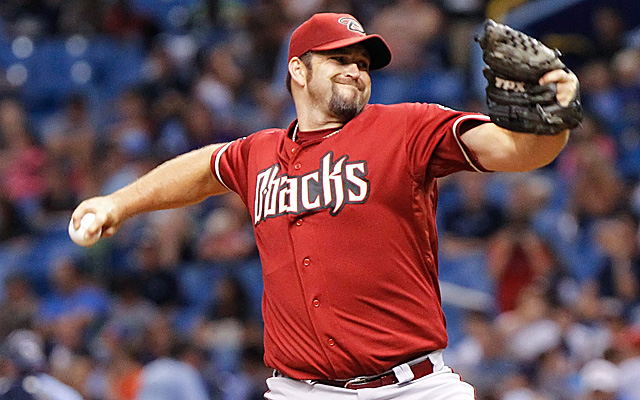 Related: Hanigan, Bell traded to Tampa Bay in three-team deal
After a disastrous 2012 season and a pretty bad 2013 season, relief pitcher Heath Bell is rather maligned for his abilities -- especially when it comes to being the man to close down close games. After all, he had 34 saves in 49 chances in the past two seasons. That's an awful conversion rate.
But when we see the Rays grab a reliever no one else wants to use as a closer, we can't help but think about track record.
Remember Kyle Farnsworth? The Rays picked him up off the proverbial scrap heap in 2011, only to see him turn around and post a career-best 2.18 ERA, career-best 0.99 WHIP and career-high 25 saves the following season.
We know you haven't forgotten about the historic season Fernando Rodney put together for the Rays in 2012. He entered the season with a 4.42 ERA and 1.50 WHIP in the previous five seasons only to morph into the modern-day version of 1990 Dennis Eckersley.
They aren't alone. Those are just the most extreme examples. Joaquin Benoit, Burke Badenhop, Jamey Wright, Wesley Wright and several others have also found better success of Joe Maddon and his staff than with other teams.
So that brings us back to Bell. Remember, he's a three-time All-Star and was among the more reliable closers in baseball from 2009-11 before he left San Diego -- and, yes, the comfortable confines of Petco Park -- and fell apart.
Can we expect another Rays miracle?
It's entirely possible, though I'll stop short of saying likely.
Bell's 9.9 K/9 rate last season much more resembled what he was in 2009-10 than the previous two years. His 2.2 BB/9 was the lowest of his career unless we include his 17-appearance rookie stint with the Mets in 2004. He he was striking out more and walking less. That's a positive step.
What of the 4.11 ERA, though?
Well, Bell was getting hit hard. He allowed 10.1 H/9, his highest mark since 2006. Some of this could be attributed to a .337 BABIP (compared to his career .310 mark), but definitely not all. His fastball was getting crushed and velocity wasn't even that much down from his career marks. It's more a movement and location problem, then, so the Rays need to work on that.
Beyond that, Bell also allowed lots of home runs. He'd never allowed more than six in a season before, but coughed up 12. Some of this, yes, can be attributed to his fastball woes. Some of it could have simply been bad fortune with fly balls, as the 18.5 percent rate on fly balls leaving the yard is akin to what power hitters like Troy Tulowitzki and Brandon Moss produce -- not league average hitters.
There's definitely work to be done, for sure -- and make no mistake about it, the Rays aren't magic. They don't just wave a wand and make terrible pitchers awesome. We can't just say, "well, Bell will be awesome because Rodney and Farnsworth!" There has to be more to it than that.
With Bell, though, there is a little more. If the Rays can help him make his fastball effective again, we might well see another drastic turnaround in the back-end of the Tampa Bay bullpen.
Show Comments
Hide Comments