It was the Myers game, but it belonged to the Red Sox
The Red Sox returned to the postseason for the first time since 2009, and while their Game 1 win over the Rays turned on a misplay by Wil Myers, it was also a display of what made the Red Sox a 97-win team and postseason favorite.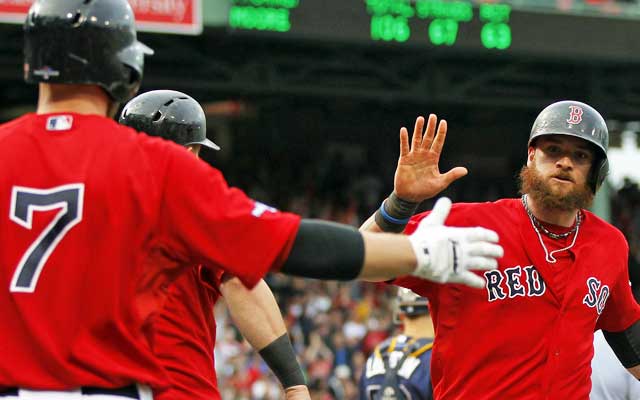 BOSTON -- The chant began in the fourth inning, and it was still going strong in the ninth.
The Red Sox were back in the playoffs for the first time since 2009, headed for their first postseason win since 2008, with visions of making this October turn out more like 2004 or 2007. Naturally, the Fenway fans were celebrating . . .
. . . by chanting the name of the guy who could well end up as the American League rookie of the year . . . who plays for the Rays.
"My-ers! My-ers!"
You couldn't miss it. He couldn't miss it.
But if you think this Game 1 at Fenway was all about Wil Myers mysteriously missing a fourth-inning David Ortiz fly ball, then you're missing a big part of the story.
This was and forever will be the Wil Myers game, sure to live on in Red Sox lore if the Sox go on to do the things later this month that they think they should. But the other message of Friday's 12-2 Red Sox win over the Rays is that in the first game of October, the Red Sox looked just like the 97-win team that romped through the regular season.
So yes, this game seemed to turn after the Myers mistake, which came with the Rays leading 2-0. But it kept turning because the Red Sox kept hitting and kept running, and because Jon Lester never let it turn back.
The Myers' play may be debated forever, and there will certainly those who won't accept the rookie outfielder's explanation that he backed off because he saw center fielder Desmond Jennings out of the corner of his eye. Even people in the Rays dugout thought at first there was more to it than that, that maybe someone in the Red Sox bullpen had taken advantage of the kid.
Eventually they took the kid at his word, and accepted the misplay as a simple mistake, one the Fenway fans wouldn't let Myers forget.
"My-ers! My-ers! We love Myers!"
But don't forget what happened after his maybe-mysterious miss. Don't forget the doubles from Jonny Gomes and Will Middlebrooks, and more than that don't forget the way Gomes scored from second base on Stephen Drew's infield single.
The Red Sox won 97 games, and it's worth remembering that they dominated the AL East in part because they dominated the Rays (with 12 wins in 19 games) and because they dominated everyone at Fenway (an AL-best 53 home wins).
As Gomes said last month: "We've played good at home. We've played good against everyone at home."
And Fenway can be a challenge, even for a Rays team that plays here nine or 10 times a year and won two games here in the 2008 ALCS.
"Fenway's a tough outfield," Red Sox right fielder Shane Victorino said. "It's part of being a good team, getting home field."
They'll have home-field advantage for as far as they go this October. And while the Rays' strong and deep rotation means this best-of-5 series isn't close to being over one game in, a big Game 1 win will help keep the Red Sox thinking that they're just supposed to keep winning.
"It's a very committed group," manager John Farrell said in September. "And I thought from the first day of spring training on they felt they had a chance to do something special."
They could. If they do, the Wil Myers game will live on in New England.
And Wil Myers may be hearing that chant around here for years to come.
Show Comments
Hide Comments
Our Latest Stories
Abbott struck out 13 while throwing 106 pitches in the dominant outing

The Rangers could extend Nomar Mazara next

Sanchez has allowed only two hits in his last 14 innings, including six no-hit innings on...
With the Nationals take the NL East again, or will the Mets steal it? Or will someone shock...

The deal buys out Odor's first two years of free agency

The retired slugger told some Miami students as much