It's only a month, but Yasiel Puig is a star (and hopefully an All-Star)
The All-Star Game is baseball's biggest show. Yasiel Puig is already baseball's best showman. Is he an All-Star? Absolutely.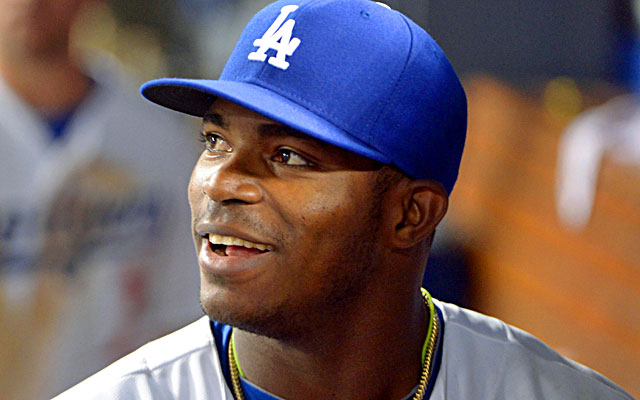 If Yasiel Puig is hitting, I'm watching. If he's throwing, I'm searching for the video. And if he's running the bases . . . are you kidding, that's better than watching him hit or throw.
Now explain to me again why you don't want Yasiel Puig in the All-Star Game?
So he's only been in the big leagues for a month. So he has fewer RBI than Munenori Kawasaki (and only one more than Ike Davis). So he's going to take the spot of someone who established All-Star credentials over three months, rather than one.
So what?
Start listing the players you most enjoy watching. Let me know how many names you write down before you get to Yasiel Puig.
This isn't just a guy who happened to have a great month. This is the most talked-about player in the game right now.
I was in Kirk Gibson's office before Tuesday night's game at Citi Field. He asked about Puig.
I was sitting with three scouts during Tuesday night's rain delay. They watched the end of Homer Bailey's no-hitter -- and then went back to talking about Puig.
The Mets' Juan Lagares got thrown out trying to stretch a double.
"He Puig'ed it," one of the scouts said, laughing. "Run till you're out."
Above all else, the All-Star Game is a show, and right now Yasiel Puig is baseball's best showman.
Above all else, baseball needs to give people a reason to watch the All-Star Game. Yasiel Puig is a reason.
Does he deserve it? Maybe yes, maybe no. I don't really care, although I'd make the argument that he does (even while acknowledging the arguments that he doesn't).
Does he give the National League the best chance at winning? Perhaps yes, although since he's (rightfully) not going to start, we're probably only talking about one at-bat and maybe a few innings in the field.
Here's what he does give the All-Star Game: A reason to watch it.
Is there anything this game needs more than that?
You don't watch the All-Star Game to find out which league gets an extra home game in October. You don't watch the All-Star Game because you owe it to players who earned their way there with a fine first half.
You watch the All-Star Game to see stars. You watch the All-Star Game to be entertained.
Even now, one month into his career, Yasiel Puig is a star. Yasiel Puig is entertaining.
He's also the first player ever to win a player of the month award in his first month in the big leagues. He was the National League's player of the month, and the National League's rookie of the month.
I think they wanted to name him the National League's pitcher of the month, too, but that would have been a little much. I think the American League wanted to name him player of the month, too, but that was against the rules.
In another month, there's every chance that he'll be slumping. There's no chance that he'll be forgotten.
Besides, the All-Star Game isn't next month. It's in 13 days. Thirteen days from now, we're still going to be talking about Yasiel Puig. We're still going to be watching every highlight we can find of Yasiel Puig.
Baseball got it right last year with Mike Trout and Bryce Harper in the All-Star Game. Harper had played in just 69 games before the All-Star break (Trout had played in 86), and we heard many of the same arguments about how Harper was taking a spot from a guy who had been in the league all year.
By the time the All-Stars show up at Citi Field, Puig will have played 39 games for the Dodgers.
It's true that he would be taking a spot that could go to someone else. It's theoretically possible, as one veteran baseball man said, that the guy who doesn't make the team because Puig does could be a pending free agent who has never been an All-Star before, and that the All-Star snub could cost him free-agent money.
It comes down to what you want the All-Star Game to be. Do you see it as a reward, do you see it as a game or do you see it as a show?
It's a show, and shows need stars.
Right now, baseball has few stars bigger than Yasiel Puig.
Show Comments
Hide Comments
Our Latest Stories
Fernandez was killed in a boating accident early Sunday morning. He was 24

Fernandez was jailed three times for trying to defect

Autopsies will confirm but there's no reason to believe substances were the cause of the a...
Fernandez was killed in a boating accident early Sunday morning. He was 24

Fernandez was 24 years old

The two met earlier this season when Ledecky threw out a ceremonial first pitch