Jaime Garcia could join the Cardinals rotation Saturday
After throwing 74 pitches in five innings for Triple-A Memphis Monday, the Cardinals acknowledge Jaime Garcia is a candidate to get the start Saturday.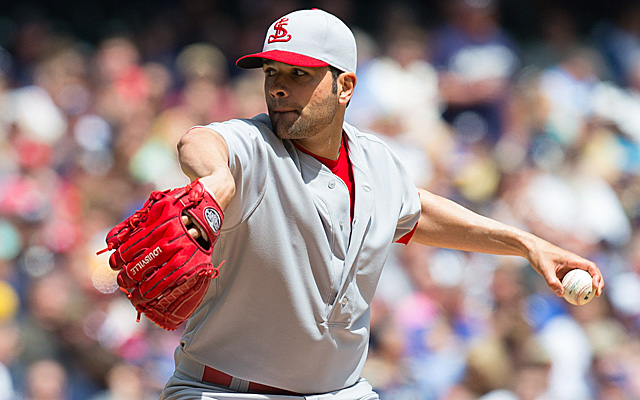 More: Cards place Lyons on DL with shoulder strain

With Joe Kelly not being ready to come off the disabled list and his rotation replacement, Tyler Lyons, now on the DL himself, the Cardinals have a spot to fill for Saturday. And it could well be the rehabbing Jaime Garcia.
"We haven't made that decision yet," general manager John Mozeliak said, via St. Louis Post-Dispatch. "Obviously he's a possiblity. We'll certainly revisit it in the near future. ... We want to know how he feels. He threw very well. The reports of how he pitched were very positive. More importantly, it's how he feels from a physical standpoint. But I am encouraged. It's certainly a possibility."
Garcia, 27, is coming back from surgery to repair a partially torn labrum in his left shoulder. His first rehab appearance was cut short after he was hit by a pitch, but he took the ball again Monday -- this time for Triple-A Memphis -- and worked five innings, allowing two runs on three hits with five strikeouts. Most importantly, he threw 74 pitches, meaning he could probably push himself up to around 90 next time out -- which is plenty for his first start back in the bigs.
Garcia was 5-2 with a 3.58 ERA (104 ERA+), 1.30 WHIP and 43 strikeouts in 55 1/3 innings last season before his injury.
If it's not Garcia, the Cardinals will go with Tim Cooney Saturday on the hill, per the Post-Dispatch. Cooney is 4-2 with a 2.94 ERA in eight starts for Triple-A Memphis.
Show Comments
Hide Comments
Our Latest Stories
Jim Leyland's USA team won the World Baseball Classic, and he was emotional

The United States wrapped up the 2017 World Baseball Classic championship on Wednesday nig...

Let's take a quick walking tour of World Baseball Classic history
Stroman had a no-hitter going through six innings and ended up World Baseball Classic MVP

The United States conquered its first title on March 23

The World Baseball Classic championship is well within reach now