Jake Peavy isn't a fan of new Yankee Stadium
After giving up three solo home runs in Saturday's loss to the Yankees, White Sox starter Jake Peavy complained about new Yankee Stadium, saying, "they hit the ball in the air and it's a home run."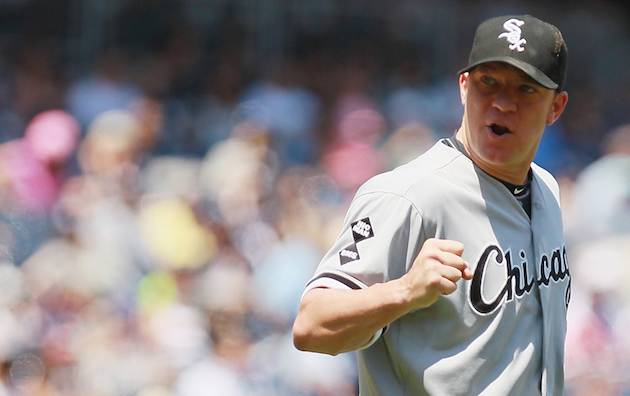 White Sox pitcher Jake Peavy is not impressed with new Yankee Stadium.

"They hit the ball in the air and it's a home run," Peavy told reporters following Saturday's loss to the Yankees (via the New York Daily News).

Peavy struck out 11 Yankees and gave up eight hits in eight innings, but three of those were solo home runs and New York won 4-0. All three of those homers were hit by left-handed hitters, which got Peavy's ire.

"Every guy is standing on the plate," Peavy said (via the Daily News). "How many balls get hit to the left side of the field? None. They have no interest in hitting the ball that way.

"Except Robinson Cano -- that's why he's hitting .300, because he will use the whole field. Those guys are great hitters, so why wouldn't you? They hit the ball in the air and it's a home run."

The Yankees lead the majors with 122 home runs, with 68 of those at Yankee Stadium. While no slugger would be intimidated by Yankee Stadium, it's not like it's the only park that plays small. As SI.com's Jay Jaffe pointed out on Twitter, according to the Bill James Handbook 2012, his own home stadium, U.S. Cellular Field, has a higher multi-year park HR factor than New Yankee Stadium. Also, according to ESPN.com's park factors for 2012, Yankee Stadium is ninth (three spots behind U.S. Cellular). Great American Ball Park in Cincinnati is the easiest place to hit a homer this season, followed by Miller Park, Chase Field, Coors Field and Oriole Park at Camden Yards.

For more baseball news, rumors and analysis, follow @EyeOnBaseball on Twitter, subscribe to the RSS feed and "like" us on Facebook.