Jamie Moyer annoys the Braves, who fire back in a big way
Chipper Jones and Peter Moylan both fired off on Jamie Moyer after the Braves shelled the Rockies' 49-year-old pitcher.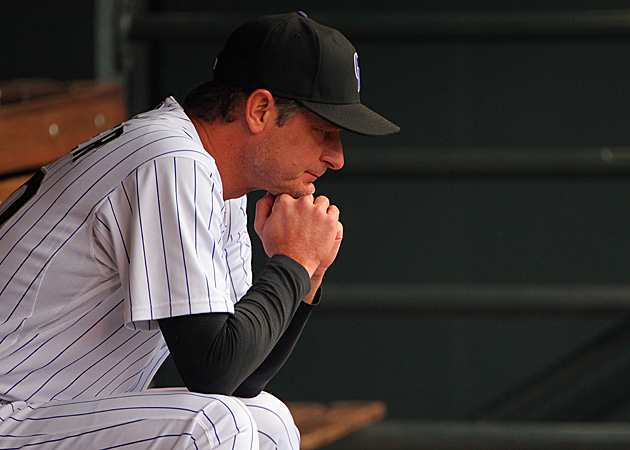 Jamie Moyer
got under the
Braves
' skin Saturday night, and according to
Chipper Jones
, it cost the 49-year-old the game. The
Rockies
jumped out to a 6-0 lead, but then Moyer provided the Atlanta offense with what it needed. Take it away, Chipper:
"That was all on Jamie Moyer," Jones said (
MLB.com
). "He woke a sleeping giant tonight. He started chirping and it went all downhill from there. He accused me of relaying a sign down 6-2 with a 3-0 count to
Brian McCann
. I have never relayed a sign to anyone while I'm on second base."
More:
"You question our integrity, that's wrong," Jones said (
MLB.com
). "I've never accused him of doctoring a baseball. I've never accused him of over-milligraming, nothing. That's [garbage] and he woke us up. I didn't see any signs on the 900-foot homers that were hit."
Jones is referring to the back-to-back moonshots hit by
Matt Diaz
and
Jason Heyward
. And the Braves would go on to light Moyer up for 10 hits and six runs in five innings -- again, this was after two shutout innings to start the game. The
Braves ended up winning a wild one, 13-9
.
And now, the money shot: Sunday morning, injured Braves relief pitcher Peter Moylan took to Twitter to pile on Moyer one last time ...
Will all due respect Mr Moyer, take the ass whipping with dignity. #soreloser

— Peter Moylan (@PeterMoylan) May 6, 2012
The Rockies and Braves square off again Sunday at 3:10 p.m. ET/1:10 p.m. MT in Colorado. After that, they don't play again until a four-game stretch in Atlanta in early September.
UPDATE:
Sunday morning, Jones told reporters that he relayed to a few Rockies players he'd meet up with Moyer to discuss the situation (
via Braves.com on Twitter
). Also, per Jones, Troy Tulowitzki told him "Moyer's signs were so complicated it'd take NASA to decipher them anyway." (
via AJC.com on Twitter
)
Show Comments
Hide Comments