Jayson Werth suffers setback with 'alarming report' on hamstring
Nats RF Jayson Werth was hoping to be back May 18. Instead it's May 20 and the club has gotten bad news on his injured right hamstring.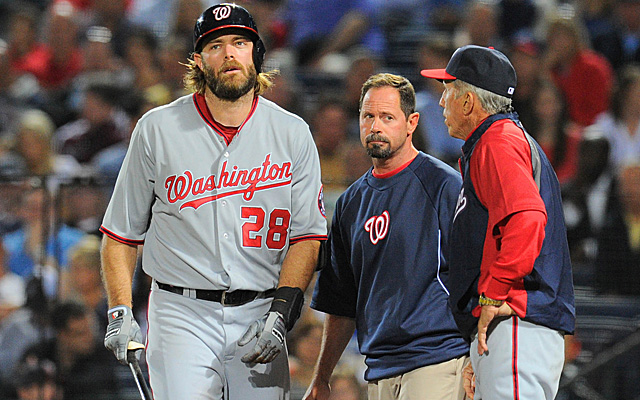 More MLB: Scoreboard | Standings | Probable Pitchers | Sortable Stats | Odds
Nationals right fielder Jayson Werth hasn't played since May 2 and hoped to return from the disabled list May 18 -- and, ahem, it's May 20 -- but he's suffered a setback and will now miss at least an extra few weeks.
After a minor-league rehab game last week, Werth had an issue with his strained right hamstring and was sent to a few specialists. We don't know specifically what was found, but it doesn't sound good. Nationals manager Davey Johnson told reporters he got a "kind of alarming report" on Werth's bum hammy.
"Our doctors say that he's going to be a while longer," Johnson said (washingtontimes.com). "I think he was rushing it. And hearing from Jayson, he felt like it was a slight strain he could play through. He's starting to realize that your hamstring is going to take a little more time."
Johnson further told reporters he believes Werth will miss an extra two weeks.
Werth, 34, has only managed to play 27 games thus far in the 2013 season. He's hitting .260/.308/.400 with four homers, 10 RBI and 17 runs. With Werth on the shelf, the Nats are going with Bryce Harper in right and either Roger Bernadina or Tyler Moore in left field.