Jenrry Mejia says witch hunt, lack of MLBPA support led to lifetime ban
Banned reliever Jenrry Mejia says his lifetime suspension was the result of a witch hunt, and also because the MLBPA didn't do enough to protect him.
Last month, former Mets reliever Jenrry Mejia became the first player in history to receive a lifetime ban under the league's banned substance policy. He managed to test positive for performance-enhancing drugs three times within 10 months or so.
Earlier this week, Mejia told Ben Berkon of the New York Times that his suspension was the result of a witch hunt. From Berkon:
But Mejia, 26, said in an interview Thursday that he was guilty only of the first doping offense. After the second positive test, which he said was somehow inaccurate, he was pressured by Major League Baseball officials to share information about his doping connections, he said.

Mejia said that baseball officials told him that if he appealed the punishment for the second doping offense, "they will find a way to find a third positive," Mejia said through an interpreter. "I felt there was a conspiracy against me. I feel that they were trying to find something to bring me down in my career."
MLB officials, of course, denied these allegations. "No one at MLB or representing MLB has met with Mejia regarding any of these drug violations," said a league spokesperson to Berkon.
Mejia also says the MLB Players Association did not do enough to protect him following the third failed test. He claims the union told him there were no grounds for an appeal.
"The association should have done more," Mejia said, adding that he thought the union "should have been there to defend me -- because that's what they're there for. They should have found something to appeal for."
The league's banned substance policy allows Mejia to apply for reinstatement in one year, though the minimum ban is two years. At best, he can apply for reinstatement in 2017 and resume playing in 2018. I assume Mejia will apply for reinstatement. It's unclear how seriously commissioner Rob Manfred will consider it.
Berkon says Mejia has hired a lawyer who specializes in labor disputes, though it's unclear if any legal action will be taken against MLB at this time. The MLBPA has declined to comment, citing the policy's confidentially provisions.
Mejia, 26, was limited to only seven games last year due to PED suspensions. He has a 3.68 ERA (99 ERA+) in 183 1/3 big league innings.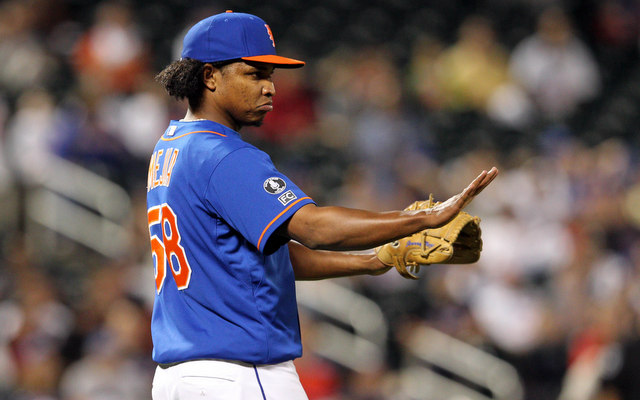 Show Comments
Hide Comments
Our Latest Stories
If your team is hoping to upgrade through free agency this offseason, we've got some bad n...

Gordon says since he doesn't have kids, hitting an HR for Jose Fernandez takes top billing

Teixiera also had a massive bat flip that he said he's never done before
Four signed balls and Jose Fernandez's checkbook washed up

Matz is heading for another checkup on his troublesome shoulder

Ramos has had a huge breakout season in 2016. Losing him would be a devastating loss for the...