Jeter on Thursday: 'I feel like I haven't played in a couple of years'
In the first Grapefruit League game of his final season, Derek Jeter went 0 for 2 with two ground outs on Thursday.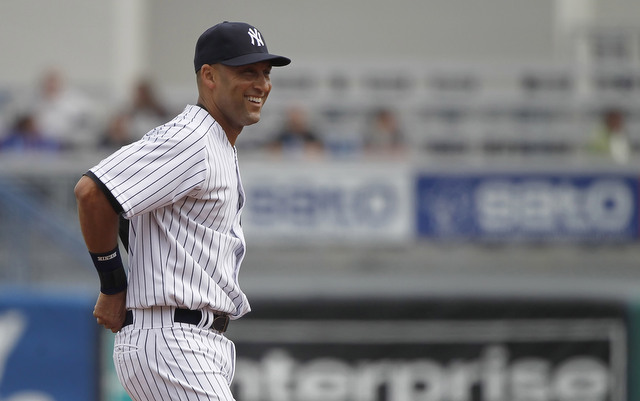 MORE: Spring Training | Scoreboard | FA tracker: position players | FA tracker: pitchers
After missing most of 2013 with a series of leg problems, Derek Jeter played in his first Grapefruit League game of 2014 on Thursday. He went 0 for 2 with two groundouts at the plate and played five innings at shortstop, though he did not have to make any defensive plays aside from applying a tag on stolen base attempt at second base.
Jeter, 39, was limited to only 17 games last year because of a twice-fractured ankle and various leg problems. He ran down the line well on Thursday and afterwards he told Chad Jennings of the Journal News that it was good to get this first spring training game out of the way.
"I feel like I haven't played a game in a couple of years," Jeter said. "That's what it felt like, even though I played a couple last year. I think just getting out there (felt good). I don't know if there's one thing in particular, but just getting into a game, feeling good, that's what I was most excited about."

...

"I've (run) already," Jeter said. "I've run a lot. You guys may have not seen it, but I've run a lot. It's always good to do stuff in game action. I wasn't out there for such a long time, so it's good to get back in game action. But I'm not concerned about running. That doesn't cross my mind."
A few weeks ago, Jeter announced that he will retire following the season, so this is his final spring training. He hit only .190 in those 17 games last season and the Yankees re-signed Brendan Ryan as shortstop insurance over the winter, but Jeter is being counted on to play the position every day in 2014.
Show Comments
Hide Comments
Our Latest Stories
Breaking down the 2016 Fall Classic between two clubs that have waited a long time for it

Let's set the stage for the first game of the 2016 World Series in Cleveland

Who do our CBS Sports experts see winning Game 1 of the World Series?
Kipnis at media day on Monday talked about growing up in the Northern suburbs of Chicago

The Yankees traded Chapman and Miller at the deadline

The slugger tore his ACL on April 7, but could join the World Series roster