Joe Maddon set to become Cubs manager, sources say
The Cubs get their man, as they will hire ex-Rays manager Joe Maddon to lead the franchise once a deal can be finalized.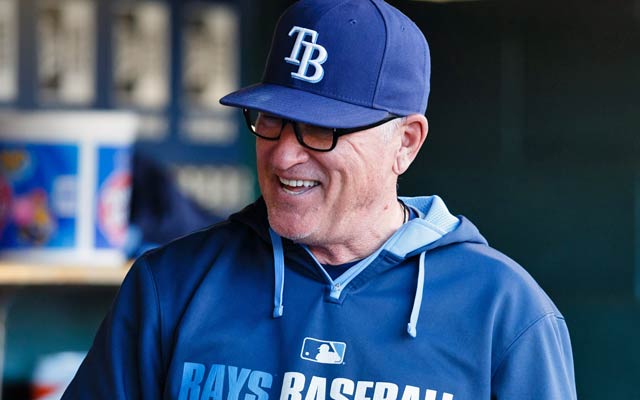 KANSAS CITY, Mo. -- Joe Maddon is about to become the new manager of the Cubs, sources tell CBSSports.com.
Maddon and the Cubs are on the verge of agreeing to a mega deal, according to people familiar with the situation.
The Cubs and agent Alan Nero denied that a deal is done, but people familiar with the dealings say that it is certain to be completed in coming days, and that Maddon would indeed be the next Cubs manager.
The contract, once finalized, is expected to make Maddon one of the highest-paid managers in baseball and quite likely the best-paid in the National League. Mike Scioscia's Angels deal pays him $5 million annually, so he sets the standard. It is believed Maddon was looking for $5 million-plus per year, but the exact terms are not known.
Nero said a few days ago that as many as 10 teams were showing interest in Maddon, for jobs ranging from chief baseball officer (the Tony La Russa job) on down. But Maddon apparently preferred to manage, and the Cubs emerged as the perfect fit.
Cubs president Theo Epstein has long been an admirer of Maddon, according to people close to the team. The Cubs intend to make a big splash in free agency, and this represents a huge start.
The Cubs tried to hire Joe Girardi last winter when he became a free agent, and indications are that they ofered somewhere in the neighbrohood of $5 million to try to wrest Girardi from the Yankees. Girardi eventually signed back in New York for slightly less, about $4 million.
Current Cubs manager Rick Renteria was told the team was exploring the possibility of hiring Maddon, who became a free agent after recently opting out of his Rays deal. Team bosses wanted to make sure to keep Renteria apprised, as they had no intention of making a switch after Renteria did a fine job as a rookie manager in Chicago this year. Renteria has two guaranteed years left on his three-year deal with the Cubs.
Maddon, whom opted out of his Rays deal thanks to a cause that triggered with GM Andrew Freidman's departure from that team, thus becomes the latest big name to try to bring the Cubs a World Series title, following Dusty Baker and Lou Piniella in recent years. The Cubs' last World Series win came in 1908.
The Chicago Sun-Times had pegged Friday as a possible day for a Maddon announcement, if a deal could be finalized. The team wanted a quick resolution so as not to drag Renteria through continuing speculation and potential indecision.
The Cubs improved to finish 73-89 this year, and are looking to contend this year with the expected addition of some established players via free agency to supplement their excellent group of positional prospects and young players. Jon Lester, a free agent who helped Epstein win the 2007 title in Boston, seems like a likely target.
Show Comments
Hide Comments