Joe Maddon tweets FTW
Rays manager Joe Maddon took to Twitter to respond to Bobby Valentine's allegations that the Tampa Bay manager arrives to games late "every day."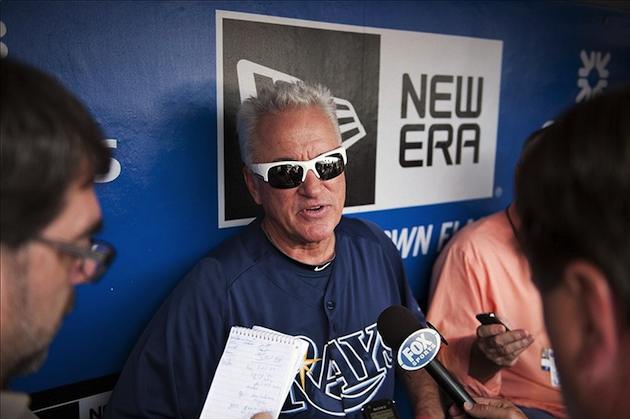 Joe Maddon tweets, Joe Maddon scores. (US Presswire)
If you haven't already, you should see what Red Sox manager Bobby Valentine had to say today.
Back? Didn't leave? Well, if you didn't read it or haven't read it (or listened), the Boston manager was defending himself against allegations that he showed up to a 7:15 p.m. game last week at 4 p.m. -- which is very late by manager standards. In addition to bringing up several excuses, he also said that Rays manager Joe Maddon shows up at 4 p.m for every 7 p.m. game. 
Well, Maddon took to his official, verified Twitter account to poke Valentine with a verbal stick. Behold:
Apologies to the writers for being late to today's pregame session. My pedicure appointment ran a little late.

— Joe Maddon (@RaysJoeMaddon) September 5, 2012
Maddon FTW.
Sure, it might have been "classier" had he just taken the high road and not said anything, but what fun is that?
Also, for the record I texted a friend of mine who covered the Rays for several years, and he said there's "no chance" Maddon shows up at 4 p.m. for a 7 p.m. game every day. Or even once.
For more baseball news, rumors and analysis, follow @EyeOnBaseball on Twitter, subscribe to the RSS feed and "like" us on Facebook.
Show Comments
Hide Comments