Joey Votto: '... I'm injured. I'm trying to be un-injured now.'
Injured Reds first baseman Joey Votto is aware that people are questioning his toughness.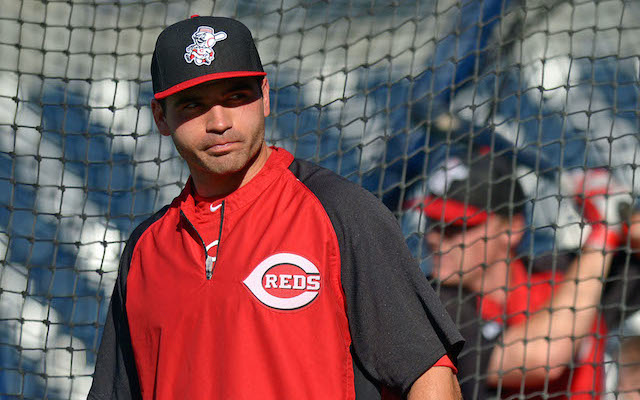 Reds first baseman Joey Votto is having a productive season on a rate basis -- he boasts an OBP-heavy OPS+ of 126 -- but he's well shy of usual standards when it comes to power production. As well, Votto has been limited to just 62 games played because of recurring quad problems. He's presently on the 60-day DL, hasn't seen the field since July 5 and has no clear time-table for his return to the active roster. 
Votto's extended absence has led to some criticism, stinging criticism in some instances. To be fair, no one I've encountered has accused Votto of outright malingering or anything like that, but his toughness has been called into question, mostly by those on message boards and call-in shows and other media that empower the habitues of America's sectional sofas.
All of this isn't lost on Votto. Here are some of his comments via C. Trent Rosecrans of the Cincinatti Enquirer:
"I played injured. I went on the DL because I'm injured. I'm trying to be un-injured now.

"So the second I'm capable of playing and I'm no longer injured, I'll be back on the field. In the meantime, you can assume I'm injured. I shouldn't get some sort of different treatment, as if this is -- I've noticed little comments here and there and just a general perception that this is something I elected to do. I didn't elect to be injured. I am injured. People get injured. I am injured. What can I do? At some point I'll be back playing like I was playing before."
Votto didn't want to go on the DL, but circumstances -- and the team, mostly -- forced him there. This is also a player who played in all 162 games last season, so if he's become a layabout then it's a very recent and very out-of-character development. 
Unless you're Joey Votto or a part of the Reds organization or someone who covers the team on a daily basis, then you're not in a position to judge whether Votto is anything but fully dedicated to recovering from his injuries and returning to action.
Yes, the Reds are having a disappointing season, and Votto's absence has measurably hurt them in the standings (Todd Frazier and Devin Mesoraco are the only other lineup regulars who can get on base at an adequate clip). However, the idea that every sports failure needs a villain is as facile as it is persistent. 
As best I can tell, the thinking goes something like ... The Reds are not as good as they should be plus Votto has a big contract plus Votto's RBI totals are unseemly plus Votto takes too many pitches equals Votto could be back on the field if only he had the inner fortitude. If that describes your inner processes on this matter, then the more sensible observers should leave you to them.   
Show Comments
Hide Comments