Johan Santana isn't very happy with the Mets right now
Johan Santana is barely communicating with Mets officials and remains bitter towards the club.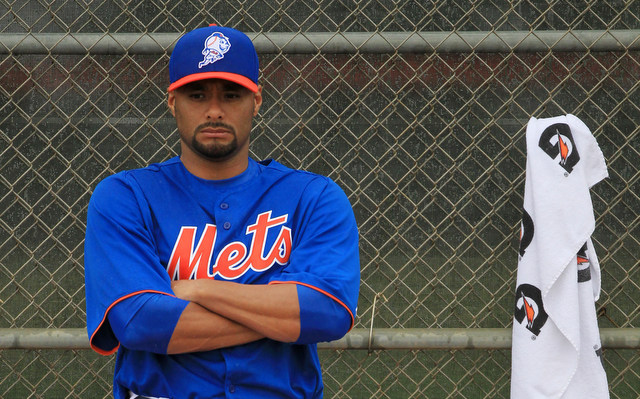 Considering he has yet to throw a single pitch in a Grapefruit League game, it's been a pretty eventful spring training for Johan Santana. He came to camp and said he wanted to play in the World Baseball Classic, but the Mets denied him permission. Next they pulled him from their rotation so he could build up arm strength, and soon thereafter Santana defiantly threw a bullpen session even though GM Sandy Alderson said he was 10 days away from getting back on a mound. As CBSSports.com's Jon Heyman reported, the team doesn't believe their left-hander showed up to camp in pitching shape either.
Things are really starting to boil over, apparently:
In Lakeland w/Mets, was told Santana remains bitter toward ballclub re: his readiness to pitch. Barely communicating with club officials.

— John Harper (@NYDNHarper) March 11, 2013
I'm tempted to say everyone should just grow up and move on, but it's never that simple. Santana's a very successful player with the inevitable ego, while the Mets have to make sure the inmates don't run the asylum. Both sides share some of the blame for any animosity polluting their relationship.
Santana, 33, is owed $25 million this year, and the club will pay him a $5.5 million buyout rather than exercise his $25 million option after the season. He should understand broken down. He had major shoulder surgery two years ago and has battled nagging injuries for a few years now.
Older players have a hard enough time getting work, but even more so when they're grumpy. Johan should focus on doing whatever he can for the start of the season, even if it means not appearing in games just yet because the arm strength isn't there.
At the same time, the Mets need to be a little more communicative. We have no idea what's going on behind the scenes, but they should sit down and lay the plan out with their pitcher so everyone understands what exactly is going on. Given his stature, Santana's earned at least that. Whether they like it or not, these two parties are stuck together for one more year, and they should work together as a team to get as much out of the marriage as possible. Sometimes that involves admitting you're wrong and compromising.
For more baseball news, rumors and analysis, follow @EyeOnBaseball on Twitter, subscribe to the RSS feed and "like" us on Facebook. Also, individually interact with us on Twitter: @MattSnyder27, @daynperry and @mikeaxisa.

Show Comments
Hide Comments
Our Latest Stories
The University of Minnesota will play a weekend series in U.S. Bank Stadium

In 12 years with the club, Buehrle won 161 games and was a four-time All-Star

A report indicates Cubs brass found Sosa's recent comments 'bizarre'
Some project the Padres to be the worst team in baseball

The right-hander was diagnosed with testicular cancer in November of last year

MLB is set to alter the way intentional walks are issued, and that's too bad