John Buck says he's not flashy, just his helmet
Marlins catcher John Buck is the only catcher who can currently go hockey-style with a personalized helmet because he was grandfathered in before licensing restriction prevented catchers from personal touches on their helmets.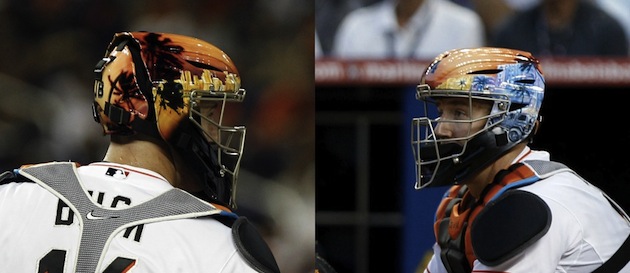 CINCINNATI --
John Buck
has the coolest catcher's helmet in baseball, and it's going to be that way for the time being. Buck said Thursday that he's been grandfathered in to wearing  painted mask, something no other catcher in baseball can do.
Throughout his career, Buck's worn colorful masks and a recent licensing agreement has precluded any other catchers from wearing a painted mask other than Buck and now-retired Greg Zaun.
"I think they're working on a deal so everyone can possibly do that," Buck said. "I got grandfathered in and I have to stay within certain guidelines about advertising and I can't have team logos or the team name."
Before those regulations, Buck had a
Royals
logo on his helmet and since then has gone more artistic, as you can see below.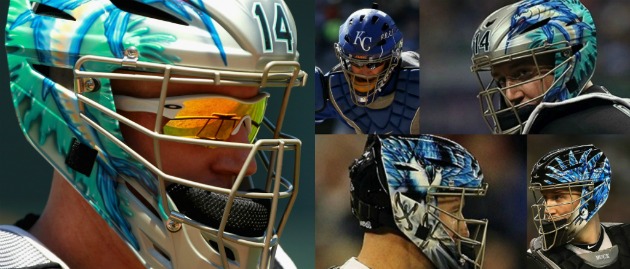 This year, he sent his artist, Gerald McLaughlin of Voodoo Air in
Toronto
, the text of the speech by
Marlins
owner Jeffrey Loria about why the team chose its new colors -- red-orange for the sunset, the blue for the water and the lights of South Beach.
McLaughlin did the rest, including a picture of Buck's Jeep, something McLaughlin came up with on his own.
Buck, a nine-year veteran, says he's hardly flashy and it's not exactly his style to wear the most distinct piece of equipment on the field, but every year at the end of the season he auctions off his helmet for charity, and the bolder the design, the more money it seems to garner. This year it's for Little League's Challenger Division.
"It seems like the flashier the helmet, the more they pay," Buck said, "It's for the kids, so I'll do the flashy helmet."
Show Comments
Hide Comments