John Henry denies report he's considering selling Red Sox
Red Sox owner John Henry denies a report from Fox Business Network that the Fenway Sports Group is considering selling the Red Sox because it can't afford to own both the baseball team and Liverpool FC, its soccer team in the English Premier League.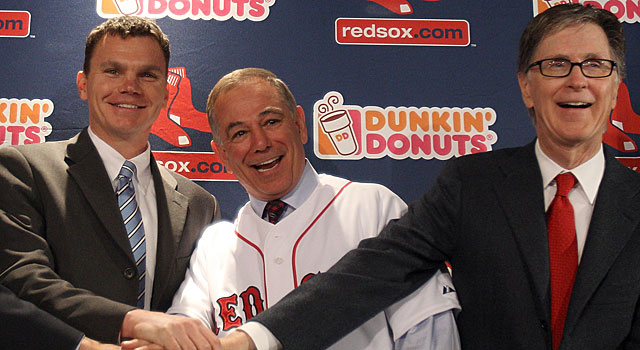 Why are these men smiling? (Getty Images)
The group that owns the Red Sox is considering selling the team because it doesn't know if it can afford to own both the Red Sox and Liverpool FC of the English Premiere League, according to a report from Fox Business Network.
Citing "people with direct knowledge of the matter," the report says the group, led by John Henry, has yet to make a decision and team officials have said "there is no truth to the rumor."
Henry denied the report when reached by the Boston Globe's Pete Abraham:
"A sale of any kind is so far from our thinking it hasn't even come up apart from technical planning issues involving death or disability. This report is completely without foundation. 

"Regarding unnamed sources: Any sale discussions that may have taken place were missing three key people — Larry (Lucchino), Tom (Werner) and me. The Sox and any of the other components of FSG are not for sale and will not be for the foreseeable future."
Lucchino, the team president, also told the Boston Globe, that rumors of a sale were "nonsense."
The current group, Fenway Sports Group, bought the team in 2002. Fenway Sports bought Liverpool for $476 million in 2010. Recently Liverpool has been criticized for overpaying players and underperforming on the field. Sound familiar?
Last week Henry wrote an open letter to Liverpool fans, saying he was tightening his purse strings, but that he was committed to keeping the team.
The Fox Business Network report says the team would seek $1.3 billion in return for the team, which Forbes magazine valued at $1 billion. Forbes valued the Dodgers at $1.4 billion, but the team sold for upwards of $2.15 billion, so that $1.3 billion price tag might seem like a bargain compared to what was paid for the Dodgers.
>For more baseball news, rumors and analysis, follow @EyeOnBaseball on Twitter, subscribe to the RSS feed and "like" us on Facebook.