Jonathan Lucroy says his wife getting hate mail after accident
Brewers catcher Jonathan Lucroy will have surgery on Thursday after suffering a broken hand when his wife accidentally dropped a suitcase on his hand. Since then, Lucroy's wife has been getting "hate mail."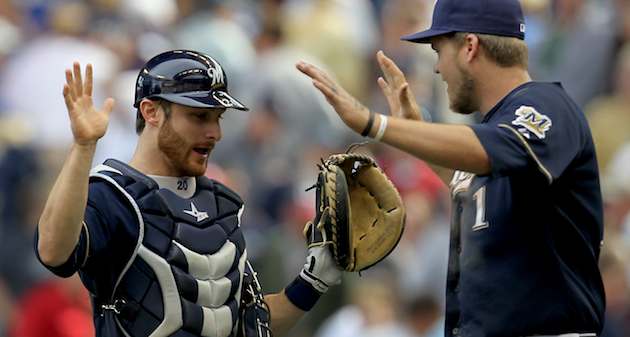 From the "what the heck is wrong with people?" file --
Brewers
catcher Jonathan Lucroy told a radio station that his wife has been getting "hate mail" on her Facebook page after an accident that resulted in a broken right hand for Lucroy.
A quick referesher -- Sunday in Los Angeles, Lucroy said he was reaching under his bed when his wife moved a suitcase that fell on his hand. Lucroy is scheduled to have surgery to implant a pin in his right hand on Thursday and will miss six weeks.
The story got out Monday and since then, Lucroy said his wife, Sarah, has been blasted online.
From SportsRadio 1250 WSSP
via MLB.com
:
"It's tough for me, because this is already a freak thing as it is," Lucroy said. "My wife has been getting hate mail on her Facebook, like, messages and stuff. It's really sad that these kinds of things happen from a freak thing. I mean, she didn't do it on purpose. It was an accident. Stranger things have happened.

"It's been a battle for me, personally, because there's no one to blame, and my wife is getting killed by this. It's not like she's not hurt enough already, not feeling guilty enough already. I really wish people would just leave her alone, leave us alone, just let us try to move forward, and get this behind us, because this has been a brutal couple of days."
For more baseball news, rumors and analysis, follow @EyeOnBaseball on Twitter, subscribe to the RSS feed and "like" us on Facebook.
Show Comments
Hide Comments