Jonathan Papelbon says he dealt with a hip injury last season
Phillies closer Jonathan Papelbon had a down year last year, and Monday he noted that he was dealing with a hip injury.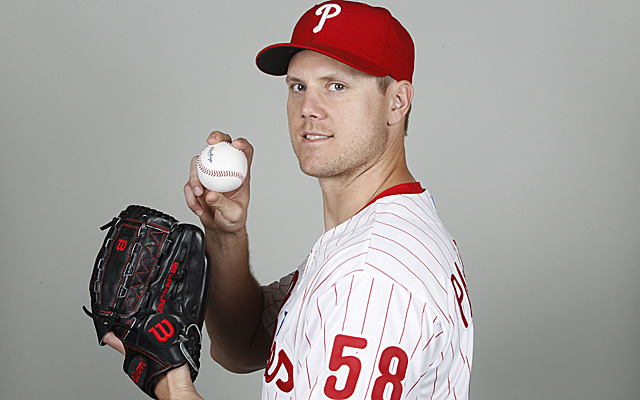 More MLB: Spring training | Scoreboard | FA: Position players | FA: Pitchers
Phillies closer Jonathan Papelbon had a bit of a down year last season, at least according to his standards. To hear it from him, a hip injury may have been at least partially to blame.
"Well, you know I had a couple things going on that I kind of grinded through," Papelbon told Angelo Cataldi and the 94WIP Morning Show on Monday (via CBS Philadelphia). "I had a little hip issue that I didn't really talk about last year a whole lot. I'm not one to come out and make excuses as why velo [velocity] is down or why we're not doing good, or anything like that. I posted up everyday still and I went out there and I tried to do the best that I can and that's part of it. Some years you're not going to be completely healthy, but I was happy to say the least I was out there grinding it out even though we weren't in playoff contention, you know?"
In addition to that, Papelbon also believes he doesn't perform as well when the team isn't in contention.
"When you're in a race and when you're in a playoff race to get into that playoff contention there is a lot more adrenaline in the ballpark -- there is a lot more buzz around. You walk in at BP, and you hear that buzz, you hear that little hum. Since I've been in Philly we have not had that and for a player that relies on that, it's a big thing," Papelbon said (via CBS Philadelphia). "For me, it's just like, um -- I'm the type of a person that you know, I'm going to say what I say, there's not really much of a filter with me. I think people have realized that. I'm honest, you know?
Yes, we definitely know, Jonathan -- because it sounds like the non-excuse maker just made two excuses as to why he had a down year, all for the sake of honesty. 
Papelbon, 33, closed 29 games in 36 chances last season with a 2.92 ERA (131 ERA+), 1.16 WHIP and 57 strikeouts in 61 2/3 innings. That's pretty good, considering it was one of the worst years of his career -- I would say only 2010 was worse -- but that's the lofty track record he has established for himself.
He's entering the third year of a four-year, $50 million deal with the Phillies.
Show Comments
Hide Comments