Jose Abreu is dominating right now
White Sox slugger Jose Abreu is indisputably on fire of late, and that was very apparent after Friday night.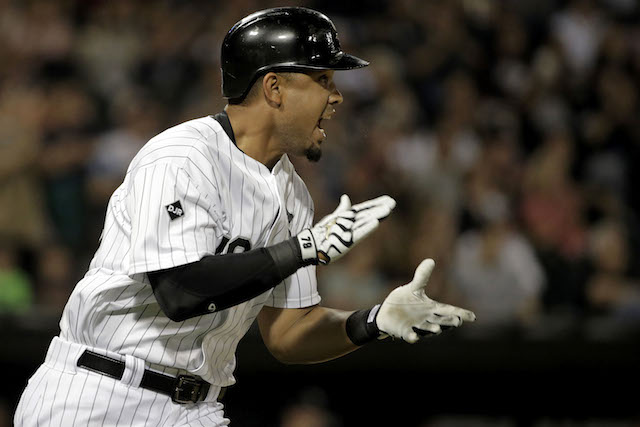 More MLB: Power Rankings | Expert Picks | Latest news & notes | Fantasy news
On Friday night against the Twins (CHW 10, MIN 8), White Sox punisher Jose Abreu extended his hitting streak to 21 games, and the major-league leader in homers now owns a 2014 slash line of .310/.364/.639. 
But wait, that's not all! During the course of Friday's win, Abreu went 3-for-3 and reached base once via walk and once via HBP. That brings us to this ... 
Jose Abreu has reached base safely 10 consec times. Franchise record: 15, Frank Thomas, 1997. MLB record: 17, Piggy Ward, 1893

— Trent McCotter (@trentmccotter) August 2, 2014
Yep, 10 straight PAs without recording an out. Here's how those last 10 plate appearances have gone: single, double, double, intentional walk, intentional walk, walk, hit by pitch, single, single, single. 
Oh, and here's one more from Trent McCotter (who, by the way, is a must-follow on Twitter) ... 
Jose Abreu has 26g ROAD hitting streak. MLB record is 44 consec road games by Jeter, 2006-2007

— Trent McCotter (@trentmccotter) August 2, 2014
All this from a rookie. Yes, he's a 27-year-old rookie Cuban defector, but much uncertainty heralded Abreu's arrival. Would the power translate? Would he be able to do anything beyond run into the occasional mistake fastball? Well, we're four months in, and Jose Abreu is an MVP candidate. So "yes" would be the answer to those questions. 
It remains to be seen whether this level of dominance is sustainable. After all, Abreu is striking out out almost 3.5 times as much as he's walking, and almost one-third of his fly balls have left the park. On the other hand, his 2014 season is all we have to go on, and he's been the most thunderous power hitter in baseball. Maybe that's exactly what Jose Abreu really is. 
It's certainly what he's been lately.