Jose Fernandez will be shut down after two more starts
The Marlins are planning to shut down young right-hander Jose Fernandez after his next two starts.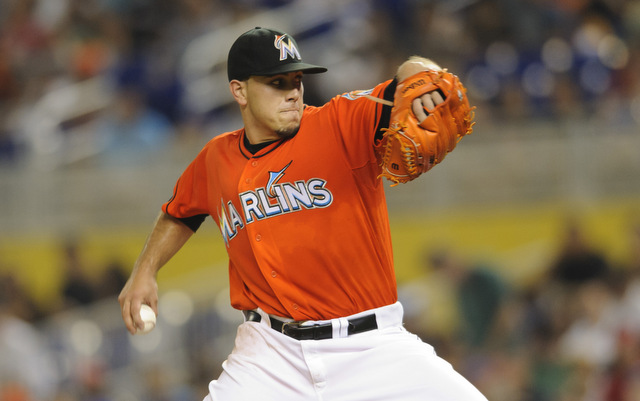 More MLB: Scoreboard | Standings | Probable Pitchers | Sortable Stats | Odds
The Marlins will shut down rookie right-hander Jose Fernandez after two more starts, reports MLB.com's Joe Frisaro. Furthermore, he will not be allowed to throw more than 12 total innings, so unless Fernandez gets knocked out of a game early, look for him to go six innings in each of the two remaining starts.
Fernandez, 21, has thrown 158 2/3 innings across 26 starts this season. Another dozen innings will get him to 170 2/3 after throwing 134 innings across two levels of Single-A ball last summer. Fernandez was a first round draft pick out of high school in 2011 and this is only his second full pro season.
"That was the range as an organization that we felt comfortable leaving him around, 150-170, depending on how many starts he did," said manager Mike Redmond to Frisaro. "It was kind of the unknown at the beginning of the season, how he would do, and how he would perform. We were looking at ways to protect him, based on how many innings he had gone before. That's the number we came up with."
In those 26 starts this year, Fernandez has gone 10-6 with a 2.33 ERA (168 ERA+) and a league-leading 9.8 K/9. Since June 1, he's gone 8-3 with a 1.61 ERA in 16 starts and 106 1/3 innings. Fernandez is both a legitimate Rookie of the Year and Cy Young candidate this season. He's been that good.
The Marlins have pushed Fernandez back a few days so his final two starts are at home in Marlins Park. He will start Friday, Sept. 6 against the Nationals and Wednesday, Sept. 11 against the Braves before being shut down.
Miami has the second worst record in baseball at 49-84, giving them every reason to shut Fernandez down and protect his precious right arm. There shouldn't be a Stephen Strasburg-esque controvery.
Show Comments
Hide Comments