July 26 Prospect Watch: Four teams get new top prospects after 2014 draft
Once the dust settled following last week's draft signing deadline, four teams walked away with new organizational top prospects.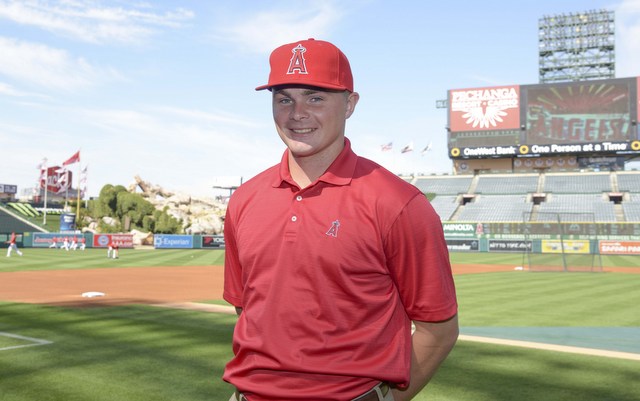 More MLB: Power Rankings | Expert Picks | Latest news & notes | Fantasy news
The signing deadline for the 2014 draft was last Friday, and, as you surely know, the Astros failed to sign first overall pick LHP Brady Aiken due to concerns about his elbow. The union recently filed a grievance against the team over the way they handled negotiations.
Even if Aiken had signed, he would not have taken over as the top prospect in a loaded Houston system. SS Carlos Correa, the first overall pick in the 2012 draft, would still hold that spot even after breaking his leg sliding into a base a few weeks ago. In fact, only four teams drafted (and signed) their new top prospect this year in my opinion. If you just drafted your new top prospect, that usually means either your system stunk or you drafted a gem. Sometimes it's both. Here are the 2014 draftees who have taken over as the number one guy in their organizations.
CHICAGO WHITE SOX
New Top Prospect: LHP Carlos Rodon
Former Top Prospect: SS Tim Anderson
Anderson is having a remarkable year, hitting .297/.323/.472 with 18 doubles, 10 triples, six home runs and 10 stolen bases in 68 High Class-A games after being the 17th overall pick in the 2013 draft. He also has top notch athleticism and is a strong defensive shortstop. Rodon, the third overall pick in June's draft, takes over as the team's top prospect because he's a potential ace and at worst a shutdown reliever. His slider is as good as any slider in baseball and the ChiSox have an excellent history of getting the most out of young pitchers. Anderson's very good, but he's no Rodon.
DETROIT TIGERS
New Top Prospect: OF Derek Hill
Former Top Prospect: LHP Robbie Ray
This is a pretty easy call, especially in the wake of the Joakim Soria trade, which sent top pitching prospects RHP Jake Thompson and RHP Corey Knebel to the Rangers. Hill was the 23rd overall pick in this year's amateur draft and he was one of my favorite prospects in the entire class thanks to his already elite center field defense and tailor-made leadoff hitter speed and skills. It also helps that he's said to have excellent makeup and be a baseball rat who grew up around the game -- his father Orsino played and is currently a scout with the Dodgers.
LOS ANGELES ANGELS
New Top Prospect: LHP Sean Newcomb
Former Top Prospect: 2B Alex Yarbrough
The easiest call of them all. The Angels had the worst farm system in baseball coming into the season and they gutted it to acquire Huston Street last week, sending three of their top five prospects to the Padres. It was all but guaranteed whomever they drafted would take over as their No. 1 prospect. Newcomb, the 15th overall pick, has power stuff from the left side and a big, durable frame that screams future workhorse. He's not a potential ace, but he's a high-probability southpaw who will miss bats and zoom up the minor league ladder.
SEATTLE MARINERS
New Top Prospect: OF Alex Jackson
Former Top Prospect: RHP Taijuan Walker
The prospect shine has started to fade off Walker a bit, mostly due to his spotty command and recent shoulder problems. Jackson is a monster with huge right-handed power and some of the bat speed you'll ever see, giving him true impact middle of the order hitter potential. The Mariners nabbed him with the sixth overall pick after there was talk he could go as high as first or second overall. Walker is still an excellent prospect -- he has 20 more innings left before exhausting his rookie/prospect eligibility -- but his warts and Jackon's elite offensive skills move him down a notch on the organizational prospect chart.
Show Comments
Hide Comments