June 14 Prospect Watch: Red Sox have another future star on the way
A rising AL East prospect highlights this week's Prospect Watch.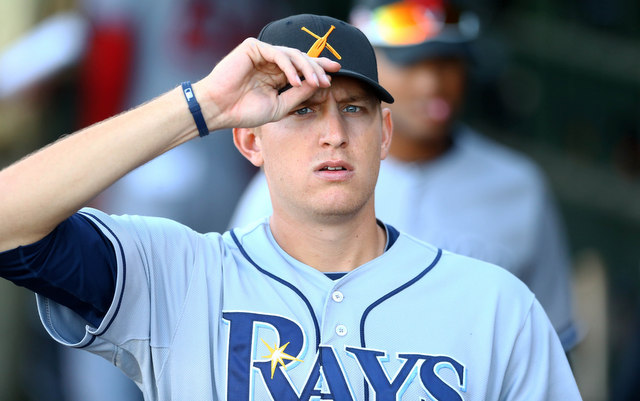 More MLB: Power Rankings | Expert Picks | Latest news & notes | Fantasy news
The various short season leagues are now starting to get underway. Short season ball is exactly what it sounds like -- leagues that start in June and have an abbreviated schedule. They are the lowest domestic levels of the minor leagues and the rosters are usually loaded with recently draftees and internationally signed players. Here are three prospects with rising stock and three others who are slipping.
THREE UP
3B Rafael Devers, Red Sox: When the Red Sox gave the 17-year-old Devers a $1.5 million bonus last summer, he was considered the best hitting prospect on the international market. His offensive potential has been on full display in recent weeks -- Devers went 19-for-43 (.442) with one double, three triples, three home runs, nine walks and seven strikeouts in his first 11 Dominican Summer League games. Yes, that is the lowest level of the minors, but he is also younger than the average player by nearly two full years according to Baseball Reference. Devers has enormous power potential and the innate ability to square up the baseball, plus he projects to remain at the hot corner long-term. Xander Bogaerts is starring in MLB and Mookie Betts has torn up the two highest levels of the minors this year. Devers is behind them and looks like the next great Red Sox farmhand.
LHP Mike Montgomery, Rays: Montgomery, 24, has been a "guy" for a very long time now. The Royals picked him 36th overall in the 2008 draft, Baseball America ranked him as the 19th best prospect in the game before the 2011 season, and the Rays acquired him in the James Shields trade prior to 2013. Montgomery posted a 5.23 ERA in 351 Triple-A innings from 2011-13 and his career stalled out. It looked like he would be a non-factor at the MLB level. Things have turned around this year though -- the southpaw has a 3.36 ERA in 75 innings at Triple-A, plus his strikeout (7.7 K/9) and walk (2.8 BB/9) rates are the best they've been in years. Seventy-five innings doesn't erase three years of disappointment, but Montgomery is showing some signs of regaining his prospect luster. Given the current state of the Tampa Bay pitching staff, he could finally make his MLB at some point this summer.
OF Tyler Naquin, Indians: The 23-year-old Naquin was the 15th overall pick in the 2012 draft and there was some concern he was a 'tweener, meaning not enough power for a corner outfield spot and not enough defense for center field. He hit a good but not great .269/.334/.405 with 10 home runs in 126 games during his first full season in 2013, which didn't exactly squash any doubts about his long-term potential. Naquin has answered the bell this year, putting up a big .327/.379/.451 batting line with four home runs in 64 Double-A games. Two of the homers have come in the last week and his 14 stolen bases are already one fewer than all of last season. Considering he was drafted as one of those "he just knows how to hit" college prospects, it's good to see Naquin actually start to hit.
THREE DOWN
OF Delino DeShields Jr., Astros: DeShields, 21, was in the news earlier this season thanks to an incredibly swollen face suffered on a hit-by-pitch. It was scary stuff. He suffered some facial fractures. The good news is that DeShields is now healthy and back playing games after missing about a month. It's remarkable he wasn't out longer. The bad news is that he isn't hitting a lick -- 20-for-95 (.211) with 25 strikeouts in his last 24 games. DeShields is a speed prospect -- he swiped 101 bases back in 2012, but no one noticed because they were all paying attention to Billy Hamilton -- and there were always some questions about how his bat would play at the upper levels. So far his first stint at Double-A has not gone very well, only partly because of the injury.
RHP Luis Heredia, Pirates: The Pirates gave the now 19-year-old Heredia a $2.6 million signing bonus back in 2010 because he was one of the very best pitching prospects on the international market. Four years later, he is struggling mightily to throw strikes and has yet to get out of Low Class-A. Heredia walked five batters in 4 2/3 innings earlier this week and has more walks (10) than strikeouts (eight) in 13 2/3 innings on the season. He has a 5.4 BB/9 over the last two seasons, so the problem is not command, it's basic strike-throwing. Ball over the plate stuff, not ball on the corners stuff. Obviously Heredia is still very young, but when a team gives a prospect that kind of bonus, they expect a little more than consistent control problems in four seasons worth of Single-A ball.
OF Adam Brett Walker, Twins: This last week was particularly ugly for the 22-year-old Walker, who was Minnesota's third round pick in the 2012 draft. He went 3-for-19 (.158) from Sunday through Thursday to drag his overall season batting line down to .248/.299/.448 in 64 High Class-A games. The power numbers (14 home runs) are fantastic. The 73 strikeouts and 26.9 percent strikeout rate are not. Walker came out of Jacksonville with concerns about a hole in his swing and his ability to recognize breaking pitches, and so far he has not done much of anything to assuage those concerns. The power is legitimate -- Walker hit 27 home runs in 129 games last season -- but it seems unlikely his approach will allow him to full take advantage of it at the upper levels.
Show Comments
Hide Comments