Just because: Dan Quisenberry and his 'down under' delivery
And now let us celebrate one of the best submariners in MLB history.
More All-time Single-Season Teams: CHC | STL | MIL | CIN | PIT | CHW | DET |KAN
As noted in our naming of the Royals all-time single-season squad, fireman Dan Quisenberry was foremost among many great KC relievers. 
"Quiz" was famous for his durability (five different seasons of at least 128 1/3 relief innings, 368 career multi-inning appearances, 192 career appearances on zero days' rest, never went on the DL), his ruthless control (92 unintentional walks in 1,043 1/3 career innings) and keeping the ball on ground thanks to his 85-mile-per-hour sinker.
Quisenberry's success and his paths to that success all had quite a bit to do with what he called his "down under" delivery. Here's a taste ...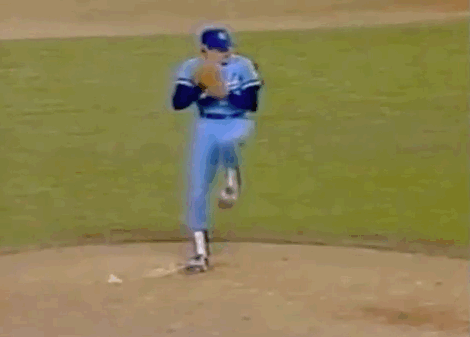 And here's a rather small and grainy look at the contortions involved, courtesy of the 1983 Topps family of products: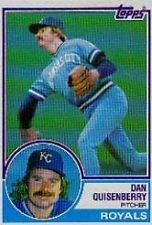 Very early in his career, Quisenberry threw from a sidearm angle, but not long after the 1979 season -- his first in the bigs -- he dropped down further and began throwing in the "submarine" vein that you see above. Like most submariners, Quisenberry made life miserable for same-side batters, but unlike a lot of submariners Quiz could pass muster against the opposite side, mostly by inducing weak contact and relying on the superb KC infield defenses of the era. That's in large part why he was able to thrive as a multi-inning relief ace. 
Quisenberry had been a conventional overhand starting pitcher at La Verne University in California and took to a sidearm delivery only to ease the wear and tear on his elbow. The Royals signed him as an undrafted free agent, Kent Tekulve helped him master the sinker one offseason, and the rest is modern-day relief history.
Or, to hear the uncommonly witty and self-effacing Quisenberry himself tell it, "I found a delivery in my flaw."