Just like last year, Cardinals keep their hopes alive with crucial Game 2 win
Game 2 of the Division Series was one of the most important the Cardinals played last October. It could turn out that way again, because Monday's Game 2 win over the Nationals evened this NLDS and kept the Cardinals' hopes alive.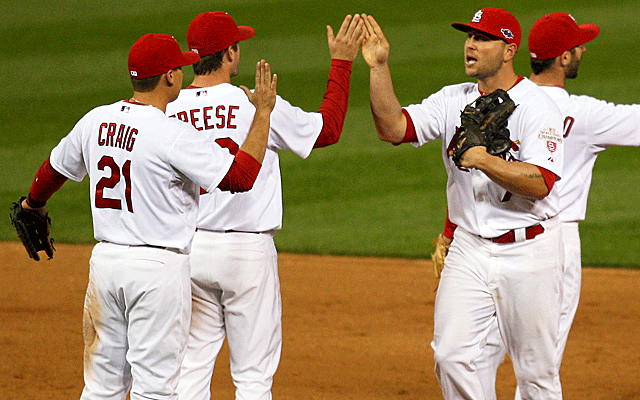 Just as they did last year against the Phillies, the Cards split their first two NLDS games.
(US Presswire)
ST. LOUIS -- Game 2 can be crucial, and the Cardinals know it.

They should, anyway.

Without their comeback win in Game 2 against the Phillies last October, there's a good chance they never play Game 6 or Game 7 against the Rangers.

Just remember what Tony La Russa said, when the Phillies series was done.

"If we lose Game 2, we're out of it," La Russa said that night in Philadelphia.

Game 2 can be crucial, and it was more challenging than expected for the Cardinals on Monday against the Nationals. By the second inning, they had lost starting pitcher Jaime Garcia, who felt pain in his left shoulder and was sent for an MRI.
With the help of three relief innings from 18-game winner Lance Lynn, and with the help of two long-distance home runs from Carlos Beltran (and home runs from Allen Craig and Daniel Descalso), the Cardinals overcame the loss of Garcia and beat the Nationals 12-4.
Just as they did last year against the Phillies, the Cardinals have split their first two Division Series games.

Last year, that was enough. And this year?

This year, it could be different. Instead of coming home for Games 3 and 4, the Cardinals are going to Washington. They won't have another home game in this round, and if they don't win two of three in DC, they won't be back in the NLCS, let alone back in the World Series.

The Cardinals were just 38-43 on the road this year, tied with the Tigers as the worst among the 10 playoff teams.

If anything, Game 2 was even more important this year, once the Cardinals lost Sunday's Game 1.

Sunday, they had just three hits, all singles. Monday, they had five hits in the second inning alone. Skip Schumaker, who pinch-hit for Garcia, didn't have a hit, but did drive in a run with a ground ball to short.

Garcia hadn't looked sharp, needing 51 pitches to complete his two innings. And Matheny had Lance Lynn, a starter during the regular season, available to pitch the third, fourth and fifth innings.

It all worked, and now the Cardinals go to Washington for Game 3 with a real chance, just as last year they came home from Philadelphia with a real chance.

Losing Game 2 certainly didn't destroy the Nationals' chances of winning this series. But just like last year, winning Game 2 has kept the Cardinals' hopes alive.