Justin Upton hearing boos from Diamondbacks fans
Last year the Arizona faithful was upset that Justin Upton wasn't in the All-Star Game's Home Run Derby, this year they're upset he's not performing at an All-Star level.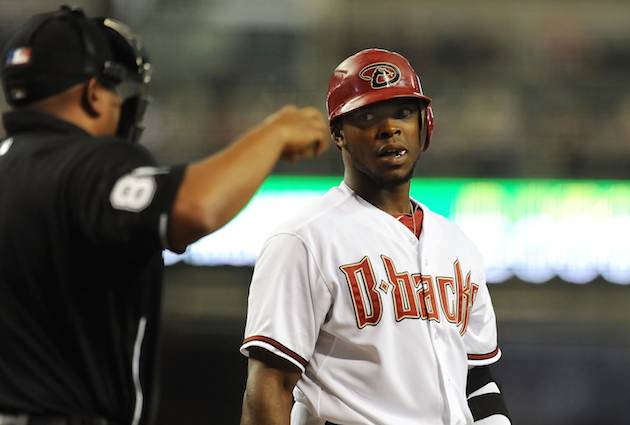 Around this time last season, Diamondbacks fans booed Prince Fielder at the All-Star Game's Home Run Derby for not picking Justin Upton on his four-man team.
This year, the Arizona fans are booing Upton.

Wednesday night, Arizona fans repeatedly booed Upton during the team's loss to the Padres.

"You know what? To be honest with you, I don't care anything about what fans think of me," Upton told reporters, including Nick Piecoro of the Arizona Republic. "My teammates, my coaches, they know I come in here and I bust it every single day. I come in here and try to do everything I can to help this team and my teammates have my back."

That wasn't it:

"Whatever the fans want to think, they can think," Upton said (again, via the Republic). "They can call me lazy. I've heard that in the outfield. They can call me washed up. Whatever they want to call me. But at the end of the day, I'm thankful for every opportunity I get to come out on a baseball field. I come out here and I try my hardest every day."

Upton, 24, is signed through 2015, but the Diamondbacks have flirted with trading the 2005 first overall pick in the past. His older brother, B.J. Upton, has had his own tumultuous relationship with fans in Tampa Bay, who have also called him lazy. Upton, an MVP candidate last season, is struggling this season, although the biggest dropoff is in his power numbers. He's hitting .263 (just .012 lower than his career average) and at .346, his on-base percentage is just .010 less than his career average. However, he has just seven home runs and is slugging .376. Last season he was slugging .506 at the All-Star break with 15 home runs.
He hit 16 homers in the second half -- in 120 fewer plate appearances.

Fans will boo, it's what they do. And Upton will continue to work to get better. Those in Arizona who see him behind the scenes, including Piecoro, note he's anything but lazy and is working hard to turn his season around. Until he starts putting up numbers, he'll have to deal with the boos and the sports talk slander, but sadly that's just part of the sports world in which we live.
For more baseball news, rumors and analysis, follow @EyeOnBaseball on Twitter, subscribe to the RSS feed and "like" us on Facebook.
Show Comments
Hide Comments