Justin Verlander ties postseason record with six straight strikeouts
The Tigers have had their strikeout pitches working in the ALCS so far, and Justin Verlander has continued the dominance in Game 3.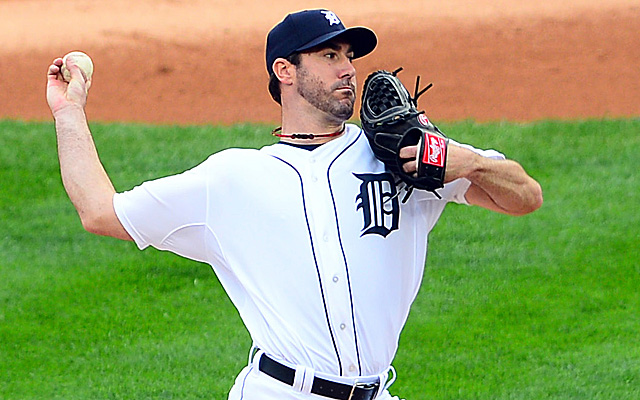 -- Follow Game 3 live with CBS GameTracker --
DETROIT -- After walking David Ortiz to lead off the second inning, Tigers right-hander Justin Verlander tied a postseason record by striking out the next six batters he faced. It could have been seven straight had Shane Victorino not popped up to foul territory in a 1-1 count to leadoff the fourth.
The all-time record for most consecutive strikeouts in a regular-season game is 10, held by Hall of Famer Tom Seaver. He did it in April 1970. The American League record for most consecutive strikeouts is nine, held by Doug Fister, Verlander's teammate. He set the record last September and is scheduled to start Game 4 of the ALCS on Wednesday.
Following the sixth consecutive strikeout, the Red Sox had struck out 38 times in 69 at-bats in the ALCS, or 55.1-percent. The Tigers pitching staff set a major-league record with 1,428 strikeouts in 2013.
Show Comments
Hide Comments
Our Latest Stories
Not that you thought otherwise, but Miggy's finishing up strong as the Tigers eye the post...

Bruce initially struggled after being traded to the Mets. He's not struggling now

Ortiz's two-run blast gave the Red Sox a 5-3 lead that would hold up, dealing the Blue Jays...
Here's a look at the postseason race standings with three days left in the regular season

GM John Mozeliak says the team probably isn't going to exercise their option on Holliday for...

Big Papi will be playing the final regular season home series of his career this weekend