Katz plans (whatever they are) seen as unlikely to dethrone Wilpons
Saul Katz denied a report he's considering selling his major stake in the Mets, but baseball powers doubt the Wilpons' rule would be threatened even if Katz did sell.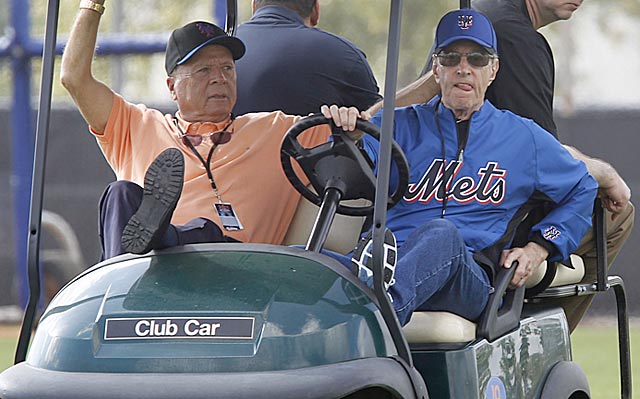 More MLB: Power Rankings | Expert Picks | Latest news & notes | Fantasy news
Mets president Saul Katz and other team higher-ups insist he has no intention to sell his major stake in the club. But even if Katz (secretly) does have interest in selling his shares, as the New York Times reported Monday, there's no real reason to believe that would threaten the Wilpons' long-running control of the ballclub, and certainly not in the near-term.
While some fans might dream of a new Mets regime the way the team's fortunes have run since the Mets moved into Citi Field more than five years ago -- and five losing seasons ago -- even the Times report suggested Katz was "hesitant" to sell for fear of jeopardizing the Wilpons' reign. Business is business, but family ties run deep here. Katz is not only Fred Wilpon's business partner, he's his brother-in-law, as well as the uncle of Jeff, Fred's son and the Mets' chief operating officer.
It's seems pretty hard to fathom Katz selling a stake that would strip his in-laws of their hold on the team, short of a family falling-out. And even if he did sell, who's to say someone else would run the team?
While a sale by Katz could conceivably push the Wilpon family shares below the 50 percent mark, there's nothing in baseball's bylaws to suggest a team's managing partner has to hold a majority of the shares, and many current controlling partners (i.e. the Phillies' Dave Montomery, the Giants' Larry Baer and many, many others) own far less than a 50 percent stake in the team. Even George Steinbrenner started out with less than half the Yankees. This is an especially necessary rule now that many teams are worth north of $1 billion, including the Mets.
Putting aside Katz's strong denial Monday that he might sell (and it's fair to say that oftentimes sales are done in secret and after strong denials), there is still little reason to believe the Wilpons would be forced out of power by a sale by Katz.
For the Wilpons to lose their control of the team, they would need a series of negative happenstances (to them) beyond a sale by brother-in-law Saul. It would depend on several more factors working against them, and the Wilpons are one persistent family; they have managed to hold at least half of a controlling share (Fred Wilpon shared power with Nelson Doubleday from 1986 until 2002) through Madoff and other missteps, thanks in large part to being one determined duo.
Beyond the reported potential sale by Katz (and the report offered no evidence he has done work on a possible sale beyond allegedly ruminate about it), for the Wilpons to lose their hold on the team they also would likely need Bud Selig to stick to his promise to vacate the commissionership next January (which is possible this time), MLB to install someone who wants to push out the Wilpons (not likely) and someone who is successful in doing do (even less likely). In other words we are, in the words of one ownership source, we are "many steps away from" the Wilpons losing control of the team, even if Katz isn't telling the truth about his intentions.
Word among other ownership sources is that Katz, never quite the baseball fan that Fred and Jeff Wilpon are, may indeed have lost a bit of interest in the team as the team has floundered at the gate and on the field in recent years, and he's gotten into his mid-70s, when many wealthy people start thinking about estate planning. Katz hasn't spoken publicly since the report surfaced but issued a statement through the team saying, "There is no truth to the reports of any intention of selling. I have no intention of selling my share of the Mets nor have I ever had any intention of selling my shares."
The Madoff scandal, which wiped away hundreds of millions of dollars in "fictitious profits" from the balance sheets of the Wilpons and Katz, has quite obviously been a major drain on the family, and very likely the team fortunes, as the team's player payroll is down to $90 million, about 40 percent below its high-water mark of about $150 million, putting it in the bottom third of major-league teams -- rare for a major-market team. It isn't inconceivable that all the headaches and heartache could wear on a Mets owner.
But even if Katz is fudging here and really does want out, that doesn't come close to meaning the Wilpons will go with him.