Kendrys Morales will turn down Mariners' qualifying offer
Kendrys Morales is looking for a multiyear deal after hitting .277 with 23 home runs and 80 RBI.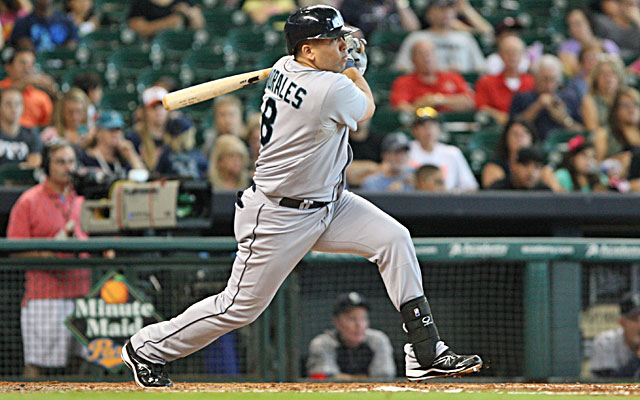 ORLANDO, Fla. -- Kendrys Morales will decline the Mariners' $14.1-million, one-year qualifying offer, according to people familiar with the situation.
Morales is one of 13 players given the qualifying offer by his incumbent team but figures to get a multiyear deal after hitting .277 with 23 home runs and 80 RBI.
Agent Scott Boras declined comment on the qualifying offer, but said regarding Morales and his numbers, 'Twenty three [home runs] and 80 [RBI] is the new 30 [home runs] and 100 [RBI]." That's a reference to declining power around the game, and how much interest Morales should generate.
Boras said they've calculated that only 27 players had 23 home runs and 80 RBI, less than one per team. Boras also alluded to him doing it in less than a hitters' park, "And he did it in Seattle."
The Mariners could still sign Morales, 30, but by him turning down the offer, they will receive a draft choice should he sign elsewhere.
Show Comments
Hide Comments
Our Latest Stories
The power hitter with the powerful arm missed election by just a few votes in 2017

Despite 555 career home runs, Ramirez has a complicated candidacy

Billy Wagner didn't get much love, either
We learned there were three new Hall of Famers on Wednesday. Here's the reaction

Rodriguez was emotional after finding out he was voted into the Hall of Fame

Barry Bonds and Roger Clemens made significant gains in the 2017 balloting, but what does that...