Leaderboarding: Best, worst pitchers at compiling quality starts
In our latest installment of Leaderboarding, we take a look at the best and worst in the majors last year in quality start percentage.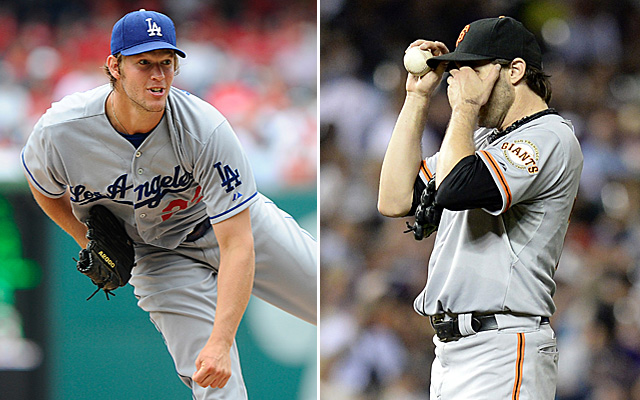 More Leaderboarding: Most triple-digit pitches | Best relievers at stranding runners | Best at taking extra base
Though a "quality start" is hardly the best measure of a starting pitcher, it can tell us a lot about consistency. If a pitcher regularly puts up a quality start, his team more than likely has a great chance to win his starts.
A quality start is defined as throwing at least six innings while allowing no more than three runs. So the baseline here is a 4.50 ERA (6 IP, 3 ER), but, again, doing this well or better definitely helps give us a good beat on whether or not a starter gives his team a chance to win.
Here are the top 10 starters in 2013 in quality start percentage, thanks to baseball-reference.com:
1. Clayton Kershaw , Los Angeles Dodgers : 82%
2. James Shields , Kansas City Royals : 79%
3. Max Scherzer , Detroit Tigers : 78%
4. Chris Sale , Chicago White Sox : 77%
4. Cliff Lee , Philadelphia Phillies : 77%
4. Matt Harvey , New York Mets : 77%
4. Bartolo Colon , Oakland Athletics : 77%
8. Cole Hamels , Phillies: 76%
8. Adam Wainwright , St. Louis Cardinals : 76%
10. Travis Wood , Chicago Cubs : 75%
Some names that might surprise those who only judge pitchers on win-loss record (yes, those people still, sadly, exist) would be Sale, Hamels and Wood. Those three were harmed badly by poor run support (Wood had second worst in the league, Sale was sixth worst and Hamels was 18th worst), though, in addition to other factors that were team-related and not individual-related.
For example, ESPN.com posts a stat called "tough losses," which is games the starting pitcher puts together a quality start and loses. Hamels and Sale tied for the MLB lead with seven tough losses. Wood was right behind with six.
Anywho, onto the opposite end of the spectrum. Here were the worst pitchers in 2013 in terms of quality start percentage, out of 128 qualifying starters:
1. Barry Zito , San Francisco Giants : 24%
2. Juan Nicasio , Colorado Rockies : 29%
3. Jason Hammel , Baltimore Orioles : 35%
3. Jeremy Hellickson , Tampa Bay Rays : 35%
3. Dylan Axelrod , White Sox, 35%
3. Chris Capuano , Dodgers: 35%
7. Lucas Harrell , Houston Astros : 36%
7. Trevor Cahill , Arizona Diamondbacks : 36%
9. Edinson Volquez , San Diego Padres /Dodgers: 38%
9. Wade Davis , Royals: 38%
9. Mike Pelfrey , Minnesota Twins : 38%
9. Phil Hughes , New York Yankees : 38%
9. Scott Diamond , Twins: 38%
9. Erik Bedard , Astros: 38%
Yikes, Zito. Giving your team a quality start -- again, with a liberal baseline for success -- less than one time every four outings for $20 million. That's rough.
Show Comments
Hide Comments