Leaderboarding: Michael Young, Rangers career leader in ...
With the retirement of Michael Young, let us take note of how many categories in which we can say "all-time Rangers career leader in ... "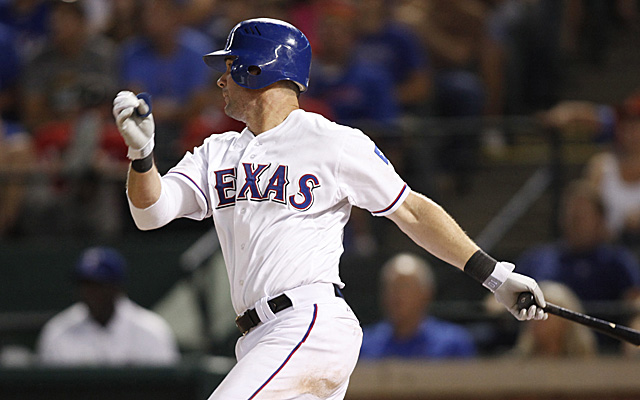 More: Young decides to call it a career
With the retirement of Michael Young, let's take the opportunity to show a few of the all-time Texas Rangers offensive leaders. That is, let's do some leaderboarding and use only those categories where Young is the all-time leader. Considering he was a very good hitter throughout his career and he played the most games in Rangers history, this isn't an especially short list.
Keep in mind, these are stats accrued in a Rangers (or Washington Senators, Part II) uniform.
Rangers all-time top five in ...
Hits
1. Young, 2230
2. Ivan Rodriguez, 1747
3. Rafael Palmeiro, 1692
4. Juan Gonzalez, 1595
5. Ruben Sierra, 1281
Runs
1. Young, 1085
2. Palmeiro, 958
3. Gonzalez, 878
4. Rodriguez, 866
5. Ian Kinsler, 748
Total bases
1. Young, 3286
2. Gonzalez, 3073
3. Palmeiro, 3026
4. Rodriguez, 2806
5. Sierra, 2166
Doubles
1. Young, 415
2. Rodriguez, 352
3. Palmeiro, 321
4. Gonzalez, 320
5. Rusty Greer, 258
Triples
1. Young, 55
2. Sierra, 44
3. Chuck Hinton, 30
4. Rodriguez, 28
5. Elvis Andrus/Ed Brinkman/Jim Sundberg, 27
Young is obviously all over the Rangers record boards, both for his career and among individual season tallies. As far as the latter, here are the top seven seasons in Rangers history in terms of hits:
1. 2005 Young, 221
2. 2006 Young, 217
3. 2004 Young, 216
4. 2011 Young, 213
5. 1980 Mickey Rivers, 210
6. 1980 Al Oliver, 209
7. 2003 Young, 204
Young is the single-season Rangers record-holder in doubles, too, with 52 in 2006.
Kudos on a great career, Mr. Young. Enjoy retirement.
Show Comments
Hide Comments
Our Latest Stories
Don't run on the field, people. Especially when Angel Pagan is in the house

Not that you thought otherwise, but Miggy's finishing up strong as the Tigers eye the post...

Bruce initially struggled after being traded to the Mets. He's not struggling now
Ortiz's two-run blast gave the Red Sox a 5-3 lead that would hold up, dealing the Blue Jays...

Here's a look at the postseason race standings with three days left in the regular season

GM John Mozeliak says the team probably isn't going to exercise their option on Holliday for...